Eyegasm! 5 Minutes Of Gorgeous X-Rebirth Footage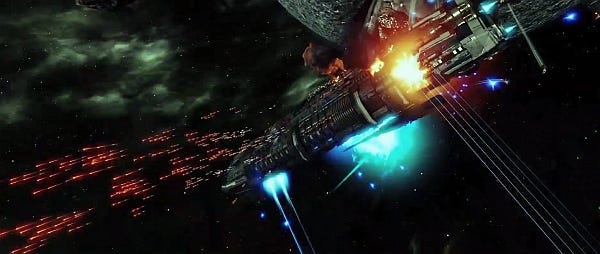 Given that we have no "next-gen" on the PC, we miss out on the huge leaps forward that consoles get to have. Admittedly, we trade that excitement in for all manner of upsides, but I do miss feeling overwhelmed by a game. The last time it happened was in Planetside 2, when I was hovering over a tank column that was moving along a road. They were in single-file, jokingly maneuvering towards a very small base. As they crawled, the sun went down and I watched as the headlights clicked on. It was quietly glorious. What does this have to do with this new X-Rebirth trailer? I think you can guess.

I'm too nice and boring to say things like "I feel like I'm looking at the PC's next generation", because I don't think that. What we are looking at is someone doing what they can with modern PC power. It'll undoubtedly require a powerful one, but this is a game that revels in what we have, and doesn't need to compromise.
It's amusing that all this beauty is showing off factories. The scale of the X-Universe has always supported the mundane: glittering buildings, wonderful complexes, but with a boring purpose. Power, commerce. Rebirth has that, but at a scale that's frankly showing off. The larger buildings are made up of smaller buildings, which are still huge. They have a purpose, with modules of stations hosting production parts. You can impact the economy by building or breaking these things. The best part is these space cities can be walked around, with you meeting the folk that are docked.
Watch.
My favourite part: the flowers crawling along the spokes of the Spice Farm. I want to fly beside them, snapping screenshots as I go, but that release date is still frustratingly open OMG IT'S OUT NOVEMBER 15TH!
And there's another trailer for it. It's all go, today.