For Honor season 3 introduces Highlander and Gladiator
"There can be only one" vs. "Are you not entertained?"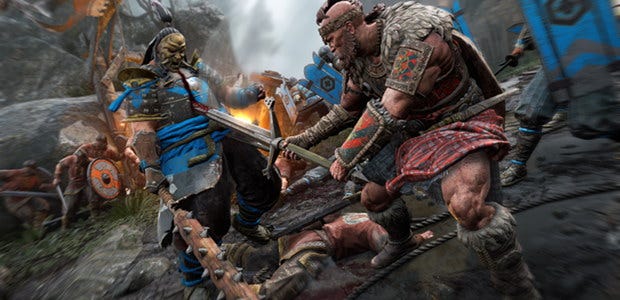 Stop me if you've heard this one: a Gladiator and a Highlander walk into For Honor [official site] and, without a third character to catalyse a joke, simply stab each other to death. Thank you, thank you for your rapturous applause. It's the way I tell 'em. This ha-ha-hilarious joke will come to life later this month with the launch of For Honor's Season 3 update, adding the Gladiator and Highlander along with two new maps, new gear, and 1v1 duel tournaments. En garde! Touché! More details are this way!
Here's how Ubisoft describe the two new classes:
Highlander (Viking Hybrid) – Highlanders are patient heroes capable of switching between two different fighting forms. Their defensive form allows for counter-attacking and trading blows, while their offensive form empowers them to unleash their deadliest attacks at the expense of being able to block. Wielding the heaviest and longest sword in the game, the Highlander's massive claymore gives them a deadly combination of strength and range.

Gladiator (Knight Assassin) – Wielding a trident and shield, Gladiators have made a living off of killing for sport, and now bring their ruthlessness and skill to war. Equipped with little armour, they can punch their opponents to create separation to set up attacks and stuns. Their larger stamina meter and reduced cool down times make them extremely agile and dangerous opponents.
They'll launch with Season Three: Grudge & Glory on August 15th but, as is typical, will initially only be available to Season Pass holders. Everyone else will need to wait until the 22nd then unlock them.
Other stuff in update 1.11: two new maps, Sentinel and Viking Village; 1v1 duel tournaments; a new 'Legendary' gear rating; reputation cap boosted to 40; other stuff.
Looking forward, Ubisoft plan to introduce 4v4 ranked modes later in the year, fine-tune balance over time, and, eventually, add dedicated servers.