For Honor launches PC hotfix, ahead of big patch
Bug-b-gone!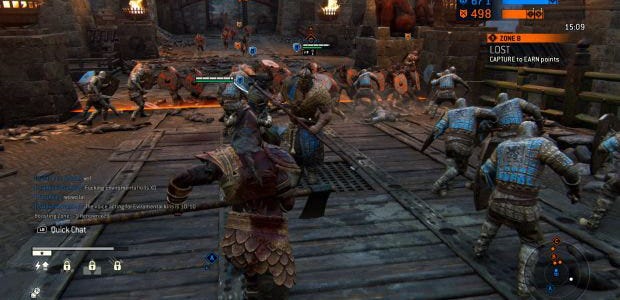 A hotfix patch is out today to For Honor [official site] to fix a few of those nagging bugs. These include problems with Easy AntiCheat errors, full screen problems, and a cracking bug that saw Steam Controller users kicked for being AFK. A bigger update is in the works, mind. This second patch will tweak the stabfest's balance, including buffing Valkyrie and changing guardbreak counters.
Here are your notes for today's hotfix, which should launch at 1pm - in an hour.
Easy AntiCheat

- FIXED: Updated the error messaging for certain Easy AntiCheat notifications to make them more user friendly
- FIXED: Error that was incorrectly blocking some players from entering the game

Steam Controller users will no longer be kicked as inactive (AFK) when providing controller input
Addressed bugs in the the shutdown process

- FIXED: game sometimes storing borderless in the options on shutdown
- FIXED: game still showing in taskbar after pressing x. When clicked you would see a small window without borders that closes shortly after.

Addressed several PC startup/full screen bugs

-FIXED: game starting in window mode when clicking somewhere else during startup
-FIXED: game switch display mode twice on startup
-FIXED: game switching to borderless when ALT+ENTER after previous switch to full screen failed

Fixed the caching of settings on game minimization

-FIXED: Incorrect window positions being stored in options when game is minimized

A message will now be displayed on BOOT if Intel GPU driver is below min specs
As for the upcoming balance patch, Ubi haven't said when we should expect that. Along with tweaking balance, it'll stop the game from replacing leaving players with full-health bots - which made ragequitting doubly dickish. Follow that link for deets on the lot.