For Honor update ups Steel rewards, River Fort returns
Steel!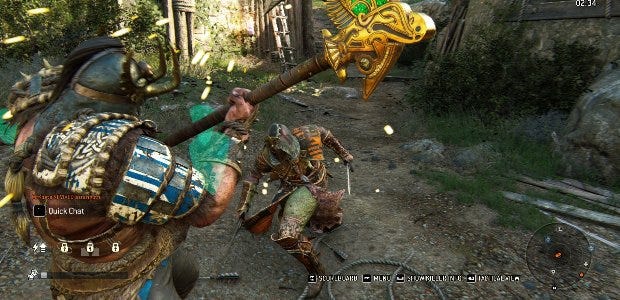 Tidying up some of the week's leftovers before we shuffle into the next... For Honor [official site] has launched an update reintroducing the River Fort map and boosting the amount Steel players earn by playing. (Steel is the virtuacash used to upgrade and customise characters.) And Ubisoft say they're going to start communicating a lot more about what's going on with the game.
All this comes from the first This Week in For Honor post, a new weekly series of dev updates. Producer Stéphane Cardin acknowledges For Honor's stability problems and insists "our devoted team is going full force to address the situation, and we will continue to be here for the long term" Which is grand because For Honor's rough edges hide a diamond worth polishing. Cardin explained on Thursday:
"Our top priority right now is stabilizing the game experience. Our top engineers have been working to address connectivity and matchmaking issues since launch. On top of that, we are working on balancing our Heroes, making sure our upcoming content is easily accessible, and bringing back the maps we removed. Those maps were the ones showing the highest rates of desync, and we want to re-introduce them progressively after our testing. Speaking of that, we are happy to bring back River Fort today and hopefully we will re-introduce High Fort as soon as possible."
That patch is now live, obvs. The other big feature was increases to Steel rewards big enough that, according to Ubi, they "can raise your daily income by as much as 45% in the first two hours." The details:
All matches Steel income are increased by 25%
Daily Orders Steel income are increased by 33%
Side Orders income are increased by 50%
Community Orders Steel rewards are increased from 500-1000 to 2000 Steel
This change comes a fortnight after one player calculated that it'd take a hardcore player about a year to unlock everything in the game they'd paid for, and casual players over two years. Calculations like this are always hazy but even through the haze it was clear: that's a long time.
Ubisoft have at least one year of free content updates planned, following a similar plan to Rainbow Six Siege. That's worked out great, so fingers crossed for For Honor too.