Fortnite's mysterious cube 'Kevin' has exploded in a live event
KERSPLODE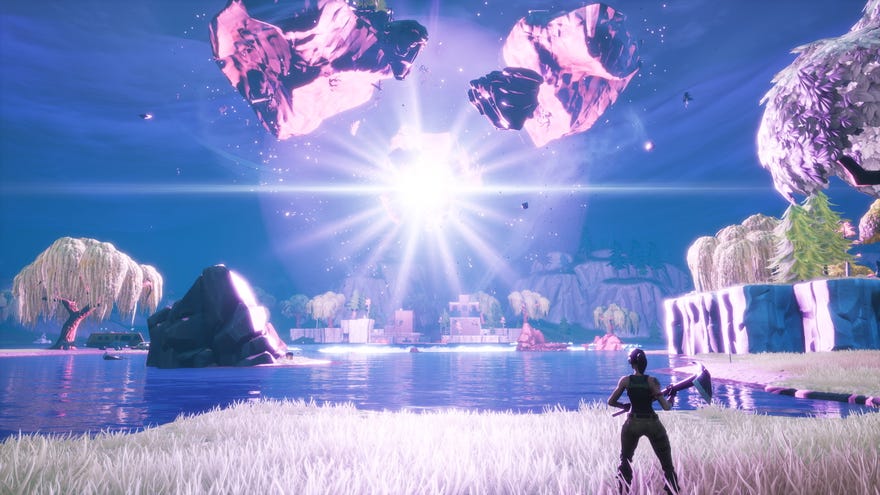 And so, the giant mystical cube known to its admirers as Kevin has returned to his own world. After weeks of being at the heart of mysterious goings-on in Fortnite Battle Royale, from corrupting the ground with runes to a zombie infestation, our purple pal exploded in a one-off live in-game event. Players who were in-game at 6pm today could see the cube charge up before exploding into fragments, then in a cutscene were whisked away to another dimension or multiverse nexus or summat. It seems our Kev hatched into a beautiful rift butterfly? Bless him. In his wake, part of the map has been reshaped again.

It was a neat-o event for a game about 100 people killing each other. After the cube exploded, we were all warped to this weird interdimensional space where we could float around. After a while of drifting, crystalline reality shards drew together and formed a big fancy butterfly, which flew around then landed on our fingers before vanishing in a flash. Nice to say goodbye.
Suddenly we were back on that murderous island, dropping down above a new spot which emerged with a golden aura and serene music playing. Loot Lake, which the cube previously kinda broke by opening a swirling vortex that sent a house into the sky, has reformed as Leaky Lake. Fragments of the cube survive on an island in a crater at its, surrounded by flowers. What a serene ending for an object which previously had left corruption in its waking.
Game-wise, hey, there are chests amongst his scattered guts in the crater. And yes, people resumed the murder as soon as they landed. It was nice to have a moment's peace.
A shard of Kevin also lives on as a cosmetic item to wear on your back, named Lil' Kev. The only way to get him is by completing three special challenges: play 15 matches; gain 5000 XP; outlive 500 opponents. Do all that by November 11th and Lil' Kev will live on with you forever.
My own in-game recording of the event crapped out, and replays don't capture the cutscenes and transitions properly, so here's the view of "GamerSkilz":
Fortnite Season 6 is expected to end on December 5th, or soon after. I'm sure Epic have more mysteries and surprises to come, given how popular these events are. I don't even really like Fortnite outside the 50v50 mode but I do stop by to check all these out.
Still trying to get to grips with Fortnite? Check out our Fortnite guide hub for more tips and tricks for the game. You can also find the latest challenges in our Fortnite week 6 challenges guide.