Fortnite Battle Royale mulls permanent big-squad mode
Laaads!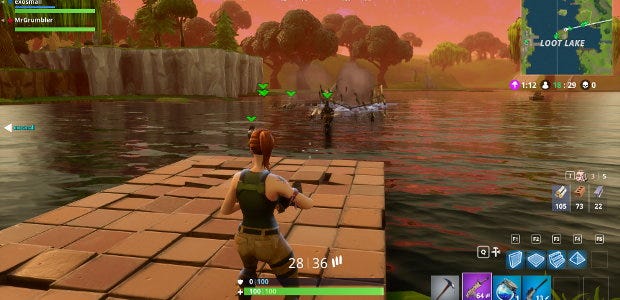 Ever since Fortnite Battle Royale first introduced 50v50 as a time-limited event mode last year, some folks--including Fraser Brown on this very site--have called for it to become a permanent fixture. Welll developers Epic Games haven't confirmed that yet, but they have talked about keeping some sort of "larger squad mode" around at all times. They've been gabbing about what they're working on right now, see, including improving performance and connections as well as adding a 'Playground' event mode for players to lark about.
"We've heard you about your love for 50v50 and we're currently evaluating keeping a larger squad mode live at all times for those who enjoy that type of battling more!" Epic said in their version 5 "State of Development" post.
They explain that they've been see the Limited Time Modes "as a space that allows us to explore different tweaks to the main game mode (e.g. Building Resources) and do things we wouldn't normally do in standard playlists", and this is one that they dig enough to consider keeping. That's not a promise, mode, and they don't commit to full-on 50v50 either - just "larger".
As for Playground, they say:
"Battle and build to your heart's content with an extended period of time to roam around the map as well as increased resource generation. All treasure chests and ammo crates will be spawned, try droppin' in different spots and scope out the loot. Friendly fire is on so you can scrimmage with your squad (up to 4 friends per match), but fear not you'll respawn immediately."
Beyond all that, they gab about improving performance in everything from load times to boosting and optimising server tick rates, adding more features to the spectator and replay systems, improving building on controllers (obviously a feature more for consoles), experimenting with adding an in-world indicator for player-placed markers... stuff, lots of stuff.
See the post for more on everything.
Still trying to get to grips with Fortnite? Check out our Fortnite guide hub for more tips and tricks for the game. You can also find the latest challenges in our Fortnite week 6 challenges guide.