Guild Wars 2: Heart Of Thorns Expansion Announced
New areas, profession, and more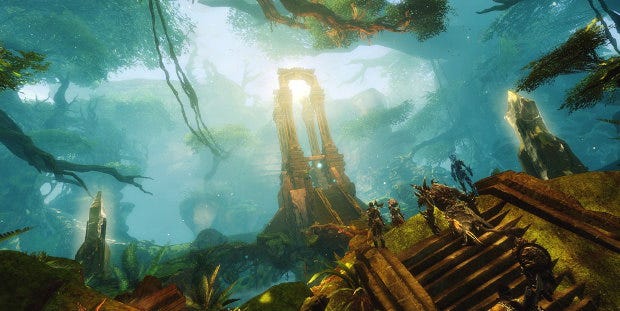 Once I played Guild Wars till my hands were worn, soon GW2 will be expanded with Heart of Thorns. And out of respect for you, myself, ArenaNet, and everyone, I'll stop that there, but will choose not to delete it so we are all aware of my shame. ArenaNet announced the first Guild Wars 2 expansion over the weekend, Heart of Thorns, sending players deep into the Maguuma Jungle on new adventures. Along with new zones, it'll add a new profession, Guild Halls, hang-gliding, and oodles more. Come see in the first trailer.
Adventurers exploring the Heart of Maguuma will find new enemies, boss battles, events, and of course a new storyline. Also a civilisation of tree frogs, who are possibly the loveliest race I've seen in any video game, even better than murlocs. Keep an eye out for the little folks in the trailer:
Heart of Thorns will also add a new profession in the spooky Revenant, who wear heavy armour and can channel powers of ancient spirits. Old professions are jazzed up too with new specialisations, which let them use new trails, skills, and weapons. It also adds a new Mastery system, a new type of progression using points earned by completing difficult tasks.
Look, I'm almost done recapping the feature list and then you can leave. Guilds can build Guild Halls, giving them a home in the jungle. On the PvP side, it's bringing a new Borderlands map and a new mode, Stronghold, where teams defend their stronghold with helpful things like trebuchets and hired help while trying to crack the enemy's and murder their guild lord.
What we don't have, though, is a planned price or release date.