HOTS stuff: Here's 1000 Heroes Of The Storm Beta Keys
One each and no shoving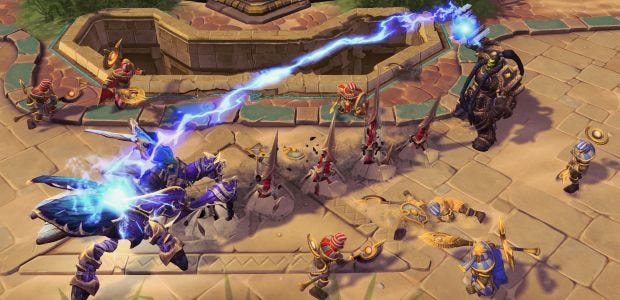 Blizzard's free-to-play Doter Heroes of the Storm [official site] will enter open beta on May 20th, but that's still one full month where your dreams of frolicking and fighting as Kerrigan, Diablo or the Lost Vikings will go unrealised.
Unless, of course, you get into the closed beta using one of the 1000 keys we're giving away below.
Welcome below. For a chance of receiving the keys, enter your email address into the godankey.com widget below. Don't worry - it won't contact you for any other purpose than to give you your key, should you be one of the 1000 randomly selected by the system. And please note: this is not a first-come, first-served offering, but a raffle.
This giveaway is now closed and the keys are now being distributed. If you haven't received a key yet, sorry, but hopefully we'll have more keys to give away in future!
If you are one of the lucky 1000 who receive a key, you should redeem it within seven days.You can do that by creating or signing in to your Battle.net account and then, on the Account Management page, clicking the big green "Add a Game Key" button on the right. That'll bring up a box into which you can paste the Heroes of the Storm key from your email.
And that's it! Why not pass the time while you wait to see if you've got a key by reading Rich Stanton's HOTS thoughts or learning more about Blizzard's attempts to keep their community healthy?