IO sale might not spell the end of Hitman
Alive and kicking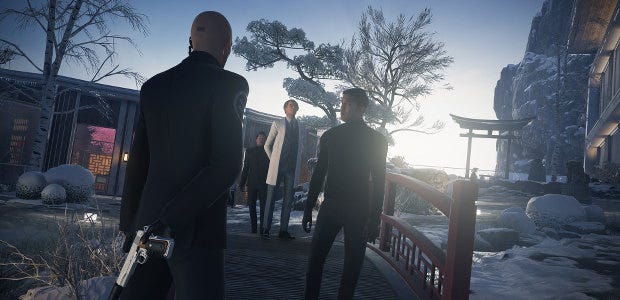 In the downward spiral of bad news coming out of Hitman [official site] developer IO Interactive – first that it was being sold by Square Enix, and then that it was laying off staff – there's finally something vaguely positive. It seems that the developer may get to keep making Hitman games after all.
The news emerged from a newly-published transcript of a financial briefing from May 11, the day Squeenix announced the IO sale. It says that the publisher is "negotiating with prospective external investors capable of ensuring" that Agent 47 survives.
That's good news, because for all we knew Squeenix might have simply held on to the rights and allowed the series to sit dormant. A rumour circulating earlier this month said IO would continue to make season 2 of Hitman but this belated transcript makes that possibility official.
Here's what Squeenix president Yosuke Matsuda said in full:
"Our decision to withdraw from the IO Interactive business was the result of a review of our portfolio that we conducted as part of our effort to concentrate our resources in order to strengthen our development capabilities.

"Because the firm is engaged in the development of Hitman and other renowned titles, we are negotiating with prospective external investors capable of ensuring that these titles carry on."
So not only does that mean that Hitman could survive, but other games that IO is working on, including the Kane & Lynch series, could carry on as well.
In a follow-up Q&A, Matsuda was asked about the rationale behind the sale. He responded:
"Given the nature of the competitive landscape in the western markets as well as other considerations, we decided we needed to concentrate our development resources. The decision to withdraw from that business was the result of a review of our Group's allocation of both financial and human resources."
To be clear, this information comes from 11 May, and things could've changed by then. It doesn't 100% mean that Hitman is surviving, but at least we know it's a distinct possibility.
That would be good news indeed, because the latest iteration of the series was pretty darn good. Alec said that it was one of the games that showed PC gaming is in a "golden age".
Hat tip to Gamespot for pointing this out.