Hollow Knight's final free expansion launches as the game goes on sale
The Dark Souls of bug-themed Metroidvanias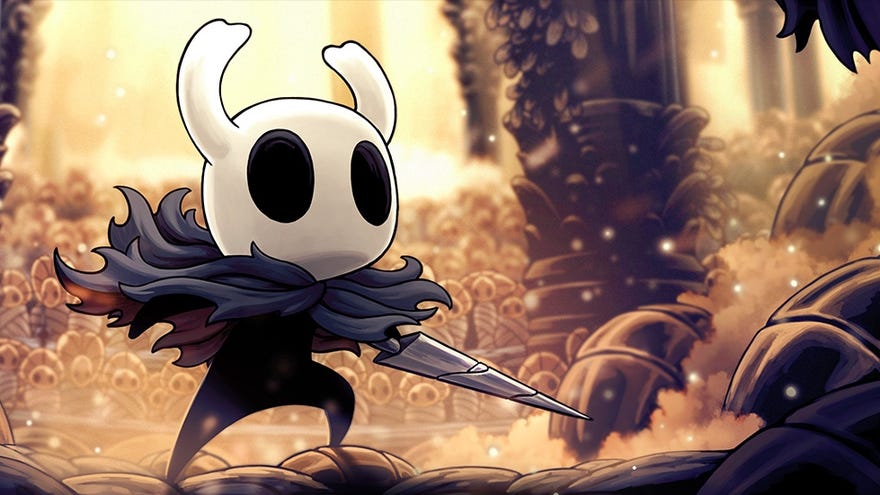 Good thing I've a long weekend ahead of me, because it's going to take time to explore Hollow Knight's crumbling Metroidvania world of brooding goth insects - now more than ever, as its third and final free expansion is out now. Formerly Gods And Glory, developers Team Cherry found the name was taken, so renamed this bundle of new boss battles and quests Godmaster. Fitting, as it promises "an incredible battle to take your place once and for all amongst the gods of Hallownest", a lofty goal for a little bug. Massive as it is now, Hollow Knight is discounted until next week.
As with previous expansions, there's some new friendly NPCs to meet, new quests to go on and more of the godly dream-realm to see. While the Godmaster expansion features a bundle of new endgame bosses (bring Nailmaster Sheo out of retirement for one last exhibition match), there's also several long and tough boss rushes to complete. Rather than make you fight all of the bosses (and there are a lot of them) back to back, you take them on in waves, timed for each string of battles. There's also a few new achievements, including one for "112% game completion".
While the release of Godmaster makes Hollow Knight officially 'complete' now, Team Cherry still have plans to expand on the game. Teased in Kickstarter blog updates, there's an expansion in the works, giving players a chance to control recurring rival character Hornet. While the three expansions so far have been free, it appears that Hornet's story may cost money, which - if it is anywhere near the quality of the main game - I will gladly pay.
Hollow Knight is out on Steam, Humble and GOG and discounted to around £7.25/€9.89/$9.89, although it appears to be fractionally cheaper on GOG right now. It'll remain cheap until Monday, August 27th.