Bzzztroidvania! Hollow Knight released
Pretty pretty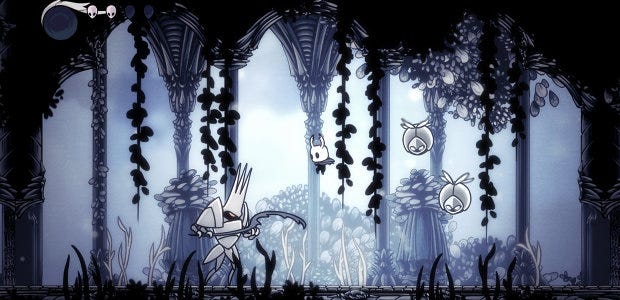 You might remember that Pip took a good look in 2015 at the art of Hollow Knight [official site], admiring its cute yet sinister hand-drawn world of insects. Pretty to look at, how does it play? You can see for yourself, as Hollow Knight finally came out this week. I've not had a crack yet myself but a fair few folks seem jolly pleased with the Metroidvania action-platformer. Here, have a gander in this trailer:
Hey, that looks great.
Developers Team Cheery say:
"Beneath the fading town of Dirtmouth sleeps an ancient, ruined kingdom. Many are drawn below the surface, searching for riches, or glory, or answers to old secrets.

"Hollow Knight is a classically styled 2D action adventure across a vast interconnected world. Explore twisting caverns, ancient cities and deadly wastes; battle tainted creatures and befriend bizarre bugs; and solve ancient mysteries at the kingdom's heart."
The game's out on Steam and the Humble Store for £10.99/14,99€/$14.99 and on GOG for £11.99.
Hollow Knight's development was partially funded by a Kickstarter in 2014. Sure it's taken almost two years longer than planned but it's coming out looking pret-ty good.