How to use Findie in Honkai: Star Rail
Beep, beep, beep!
How do you use Findie to locate mine cart parts in Honkai: Star Rail? During the Honkai: Star Rail main story mission "Ones Fallen Into the Abyss" you'll gain the help of Findie, a "Home-Use Object Finder" robot who can help you track down some missing mine cart parts you need in order to proceed. Findie assists you a few times during the Jarilo-VI questline, and you'll be prompted to call on him again for story beats during companion missions and other side-quests.
Problem is, Findie is incredibly annoying. The game doesn't do a very good job of tutorialising how to use him, and on top of that there's an audio glitch that causes him to spout his voice lines both more frequently than he should and even when the game is paused on a menu. It's frustrating stuff, which is why we've put together this quick guide to help you get through Findie's section of the mission as quickly as possible.
How to use Findie in Honkai: Star Rail
You can deploy Findie by pressing the "R" button on your keyboard or, if you're playing on mobile, tapping the icon in the lower right-hand quadrant of the screen next to your character's skills. Up to seven of his units can be deployed at once. The idea is that you will use him to triangulate the locations of the missing mine cart parts.
Once deployed, each Findie unit will emit a beam of light, which gives you two pieces of information:
The beam points in the direction of the item you're trying to find.
The colour of the beam works on a traffic light system to indicate your distance from the object — red means you're far away, green means you're really close.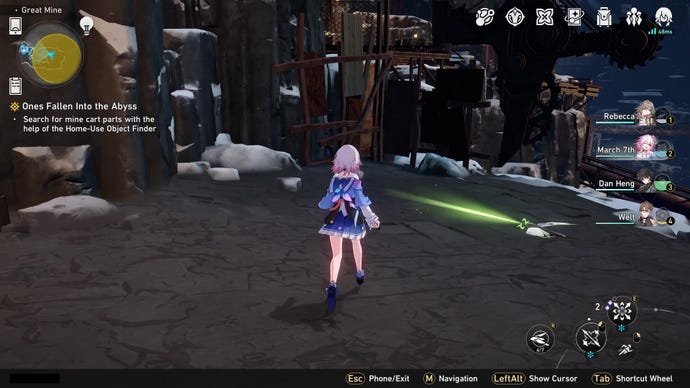 Here's the bit I struggled with: once you reach the area you think Findie is pointing you towards, press the "R" key/summon icon again to release another Findie unit and confirm that you're in the right spot. If you're correct, Findie will do a quick sweep and an interactive spot will appear, allowing you to scoop up the parts you came to find.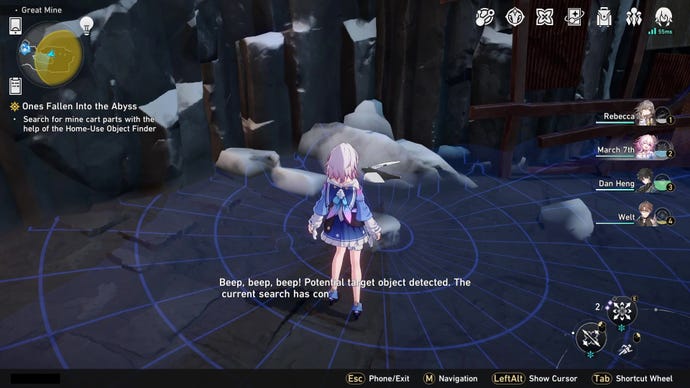 Bear in mind that the distances between your starting point and the objects you need are actually quite small, so a red light doesn't mean you need to run clear to the other side of the map — just keep dropping Findie units every few steps and you should track down your bounty pretty quickly.
For more Honkai: Star Rail guides, see our page on how to unlock all the free characters in Honkai: Star Rail, and be sure to check out our guide on how to add friends in Honkai: Star Rail too!