Honnnk! American Truck Simulator Adds Arizona
Honk honnnk!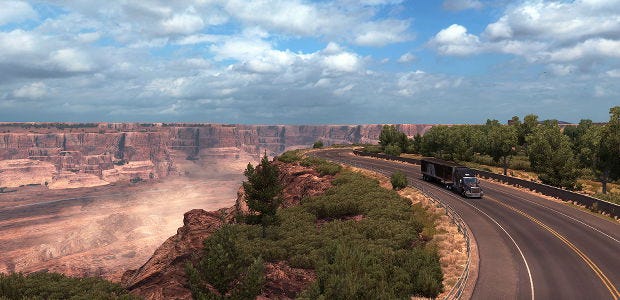 The red dust, big skies, twisting roads, and dirty gert big hole of Arizona are now open to visit in American Truck Simulator [official site]. Creators SCS Software today properly launched their truck 'em up's free Arizona expansion, following a short stretch in open beta. Young Alec really enjoyed visiting Nevada in ATS.
The free add-on brings 15 new cities to the simulated America, complete with landmarks like the Colorado river and, obvs, Grand Canyon. No, I don't believe you can Thelma and Louise your rig - that's not ATS's preferred sort of break from everyday life.
Arizona is free for all American Truck Simulator players. It joins California and Nevada as the last of the three states officially confirmed for ATS. SCS Software have said they want to make more states, but folks will likely need to pay for them.
ATS states are much smaller than their real-life inspirations, of course, but adding Arizona brings a variety that made the game feel a whole lot larger to our Alec:
"I don't want to say that the Arizona DLC completes American Truck Simulator, because when I look at the map or encounter a road blocked by translucent Xs I feel a powerful sadness that its world is nowhere near as vast and boundless as it seems, and needs to fill out at least half a dozen states before it can truly earn the first word of its name. What I am confident in saying is that it completes ATS as a launch package: an added third to its landmass transforms the offering from small to sizeable, so a long haul trip can now feel truly long haul, the scenery will change that much more, and the thought of a full trek from end to end is now something to baulk at rather than spend a lunchbreak on."
Today also brought updates to both American Truck Sim and Euro Truck Sim 2. Along with giving the option for physically simulated truck and trailer coupling to folks who really want a challenge, it adds external contracts, some tweaks and improvements to the driving simulation, and more. See the changelog over here.