(Hopefully) Good New Games: Witcher 2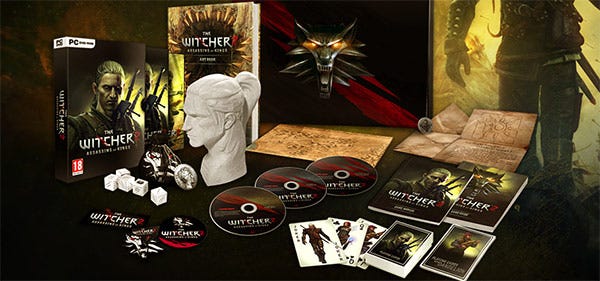 We now know which download service CD Projekt's much-anticipated roleplayer will premiere on, and it's... Good Old Games. Which is slightly confusing, unless they're using a time machine to go back and release the game on 5000 floppy discs in 1993, then re-debut it 17 years later in an age where PCs can actually run it. Still, makes sense - GOG is CDP's own service, after all.
They're sticking to their DRM-free guns with it and all. Which is very much practising what they preach: good on 'em. If you're suitably excited, you can pre-order it now. But when can you play it, and what do you get? I'm going to tease you. I'm sorry.

If you pre-order, you also get this stuff free right away: unreleased music from the soundtrack, HD wallpapers, avatars, and behind-the-scenes photos of the development team at work. Saucy.
CDP are promising day and date release with the retail version and fair worldwide pricing, which is also very welcome - we've seen all manner of weird territorial price-spiking from other publishers. Good to see someone finally acknowledge that 'worldwide web' means something. Although it's not quite that simple. Allow me to explain, via the medium of copy and paste:
The game is scheduled for release on or around May 17, 2011, and is priced at €49.99 for EU citizens, £34.99 GBP for UK citizens, and $49.99 USD for the rest of the world. Customers who pre-order the game will receive 10% off their purchase, bringing the price for a pre-order down to €44.99 EU, £31.49 GBP, and $44.99 USD respectively. Because the price in Euros is almost $16 USD more than the price in dollars, and the price in GBP is roughly $6 more than the price in dollars, GOG.com is making its pricing fair by giving EU purchasers a $16 USD GOG.com store credit and UK customers a $6 USD GOG.com store credit to spend on any game at GOG.com after they finalize their pre-order.
Which is a canny way of dealing with complicated money and publisher-based stipulations that perhaps demand parity with retail costs (the disc-based version is being published by Namco Bandai). Not as good, clearly, as genuinely equal pricing, but that they're doing something about it is excellent.
Oh, and if you pre-order you also get a free copy of either Gothic 2 Gold, Realms of Arkania 1+2, Realms of Arkania 3, Divine Divinity, or Beyond Divinity. And the download version also includes stuff like in-game soundtracks, a digital art book, a game guide, papercraft figurines.
I mean, blimey. They're going all-in here. It's one step away from promising free hugs to every purchaser.
Here's why, in the words of GoG MD Guilliaume Rambourg. "This one-time offer is a great opportunity to help promote this highly-anticipated RPG by our sister company, CD Projekt RED. Further, by pre-ordering and purchasing their copy of The Witcher 2 from GOG.com, gamers will be supporting the developer more directly, since we're sister companies. This offer reflects the principles that have made GOG.com so popular to our users, such as quality gaming, great value, and DRM-free downloads. The opportunity to bring this to our community and the internet at large was one that we couldn't pass up, and we hope that you won't be able to pass it up either."
Or - good grief! - you can buy the physcial collector's edition (pictured above), which includes an imitation marble Geralt bust, a bag of dice, a physical map, an artbook, stickers, those lovely papercraft figures, a replica coin and [head explodes]. Aaargh, so many things.
Details here.
Alternatively still, there's a cheaper 'premium' edition with only some of the goodies, while pre-ordering from various retailers also gets you some bonus DLCy stuff.
What a lot of bonus things, eh? Which version will you get? The game's slated for May 17, all being well.