How Bit Reactor's Star Wars game hopes to do for strategy what Baldur's Gate 3's done for RPGs
We chat to former XCOM art director Greg Foertsch about the challenges of making a new strategy game in 2023
Making a strategy game is "harder than people give it credit for," Bit Reactor's CEO Greg Foertsch tells me. The same could probably be said of any game this year in particular, but having spent over 20 years shepherding the art teams at Firaxis on Civilization, XCOM, Sid Meier's Pirates, Alpha Centauri and most recently Marvel's Midnight Suns, Foertsch has seen firsthand what it takes for strategy games to break new ground over the years, and what an arduous road it's been for the genre to get where it is today. Not only was it "late to party on 3D, they were late to the party on consoles," but it's also "suffered from lower budgets, which means it just hasn't pushed in the way that other genres have," he says.
Even now, "it's got some catching up to do," he continues, but there are plenty of reasons to be positive, too. As we speak at the beginning of September, our conversation quickly turns to Baldur's Gate 3, whose enormous success Foertsch cites as a clear and obvious sign that "there's a thirst for something different now," both within RPG circles and, perhaps a little unexpectedly, for strategy heads as well. It's his hope that his own upcoming project, the closely guarded Star Wars strategy game his new studio Bit Reactor are working on in collaboration with Respawn, will follow in these lauded footsteps. "We want to make a game and just have people say, 'Man, that's amazing game, and oh, it happens to be strategy.' That's the goal."
Alas, Foertsch still isn't ready to talk about his Star Wars game yet, or how it's going to go toe to toe with the likes of XCOM and Baldur's Gate 3 when it eventually comes out. But as we skirt round the specifics of what his Star Wars game is, it certainly seems like their alliance with Respawn and EA is a strong one, allowing them to put down sturdy foundations during this time of secrecy so they can avoid some of the pitfalls Foertsch has seen elsewhere during his career.
"Once people get in, I don't think they usually come to the table with enough cash to absorb the losses."
Speaking to that aforementioned budget problem, Foertsch believes that part of the reason why XCOM has continued to dominate the genre since its release in 2012 is because "once people get in, I don't think they usually come to the table with enough cash to absorb the losses." This in turn makes it "very hard to anticipate some of those things that you're going to encounter that cost time and money, these potholes, and being able to avoid chasing butterflies sometimes, so I think when people come to it, I think that's where you get a lot of derivative games."
Chief among those potholes are strategy game tutorials, it seems, whose "off-putting" wall of text pop-ups are often an unfortunate result of underestimating a game's cost, according to Foertsch. "When you can't afford to teach through a fantastic tutorial, and you've got walls of text that pushes people out, it makes people feel like it's too smart to approach." It's this reason why he's tried to avoid them as much as possible in the games he's worked on, he says, but he's also quick to concede that sometimes they're a kind of necessary evil. "With only so much money, those are just the only answers that you have sometimes," he admits.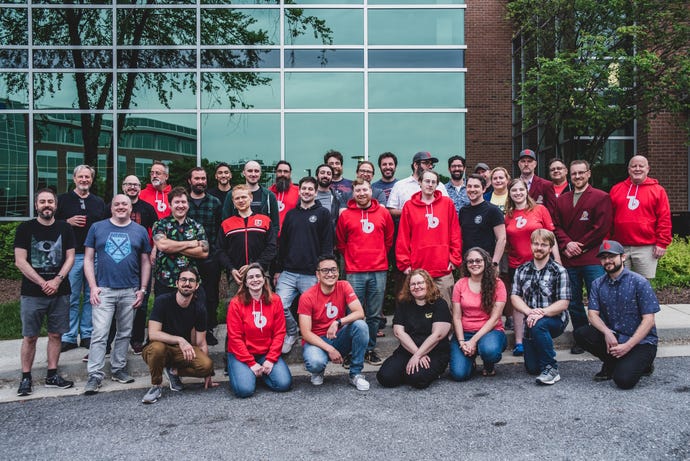 Indeed, XCOM itself almost got stuck in one of these potholes permanently, Foertsch explains, alluding to the well-documented prototype put together by designer Jake Solomon in 2004 that crashed and burned internally. But even after Solomon and his team went back to the drawing board on XCOM and it finally entered full production years later, Foertsch says that publisher 2K and its former president Christoph Hartmann were instrumental in seeing the eventual final concept through to completion. "I think we were lucky in that 2K was willing to flip the bill for doing some of our crazy thoughts and seeing them through," he says. "I give Christoph a lot of credit for that, and just believing in what we had pitched, and being able to see where we wanted to take it, and gambling on that idea." And now that Foertsch is leading his own team over at Bit Reactor, it would appear that both EA and Respawn are fulfilling a very similar role, not just in terms of folding the studio into their wider Star Wars infrastructure and production pipelines, but also in supporting their vision "to really push on the genre", saying of their relationship with Respawn in particular that they've been "super supportive". He says, "This is how development should be."
Of course, most developers would probably say similar if they had the kind of security and financial backing that Foertsch is hinting at here. But as we've seen time and again over the last 12 months or so, even the surest-seeming bets don't always pay off as expected. Strategy or not, games are now more expensive to make than ever before, and if they fail to find the audience they need to make good on those initial funding bets, the fallout can be devastating, resulting in widespread layoffs and even the closure of entire studios. This year alone has seen the loss of over 6000 jobs in the games industry, with EA themselves being among the first in the year to announce layoffs, including the abrupt closure of their Apex Legends QA studio in Baton Rouge, as well as BioWare and Firemonkeys, the latter of whom handled EA's live service ops for their mobile games. Even Firaxis haven't been immune, with 2K Games announcing restructure plans back in May after the disappointing launch of Marvel's Midnight Suns.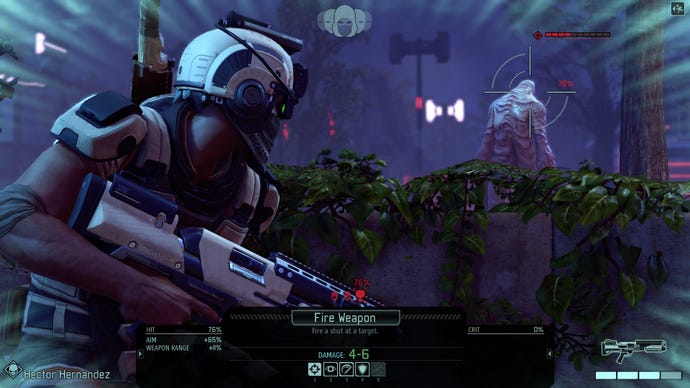 Indeed, some might say it's precisely this kind of gambling on big ideas that's led to such a drastic and brutal contraction of the wider industry. And yet, it's here where Baldur's Gate 3 enters the conversation, because when that level of support does find its mark, the results speak for themselves - and even as the debate rages on about whether the circumstances of Baldur's Gate 3's development could ever be replicated at a different studio, Foertsch strongly believes that "publishers have to start seeing the value" in games like that in order for the industry to move forward. "As you start to see [Baldur's Gate 3] get those sorts of numbers and that sort of backing and enthusiasm, you can't help but pay attention to it," he says. "I think it starts to lend credence to belief in the artistic process, support from the publisher on that process, believing in developers and, again, betting on it in a sense, financially."
"It starts to lend credence to belief in the artistic process, support from the publisher on that process, believing in developers and, again, betting on it in a sense, financially."
It remains to be seen whether Respawn and EA's bet on Bit Reactor's Star Wars game will pay off in quite the same way, of course, but Foertsch remains upbeat about their chances. His hope is that Baldur's Gate 3 "will cause another ripple" in the industry in much the same way that XCOM and Civilization did before it, encouraging developers and publishers alike to "push on things" and see where it takes them. "Even with XCOM, people started to see that, 'Wait a minute, maybe there's another option here, maybe there's something else we can do here,' and I think that's why you've seen so many of those games," he says. "Everyone's got a different take on it, [… and] I just think [the genre is] going to have a resurgence with everybody splintering. It's got so many ways to grow […] and so much space to pull from."
In fact, despite the success Foertsch has had with XCOM, Civilization and Sid Meier's Pirates, he tells me that "those things are all so far in my rearview mirror" now. Instead, Bit Reactor are "very focused on forward," he says. "We're not really looking backwards anymore at any of the things we've made. We're aware of them, we know some of the mistakes, […] so we can stop things ahead of time that would be dangerous, [… but] we have very clear ideas on things that we can really, really, really change, so we're excited about that."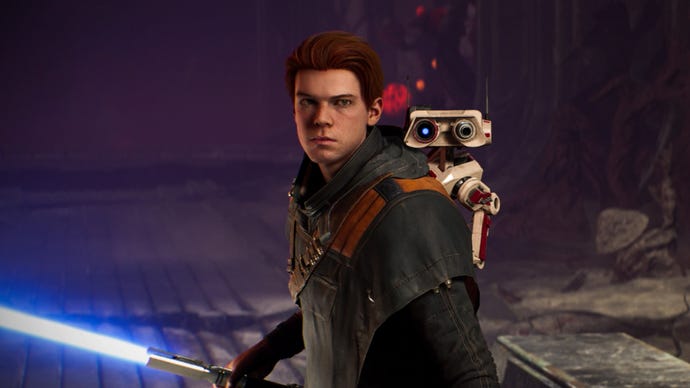 Part of that clarity comes from "having just a very strong conviction of what you know you're making," he continues, and - perhaps ironically - the willpower to resist the "danger" of chasing the hot new thing when heavy hitters like Baldur's Gate 3 do happen to come along and rewrite the rulebook. "My background was as an artist, you know, you go to a museum and you look at paintings, you're influenced by paintings, and so looking at games that come out, I think there's always little bits and pieces that, as you look at them, it's hard to sometimes enjoy them, looking at how did they do this or that," he says.
But Foertsch says he keeps both himself and his rest of his team on track by making sure "everybody knows what the [game's] pillars are, and if [they're] going to suggest something for the game, know that if it violates those things, it's probably not going to happen unless it's such a good idea that we want to rewrite them." And these rules apply to him - "I can't deviate from them, I can't just chase wild things" - as much as they do to everyone else at the studio. "That keeps us true," he says, and "by having those [pillars] established, I think it really keeps us from being dragged off the path and chasing butterflies that may or may not pan out. Because you can just look and be like, 'Well, does it satisfy these things, yes or no?'"
This is partly a reaction to some of the development practices Foertsch has seen elsewhere during his career. "I've been in studios where that's just not the case," he says. "There's not those foundational pieces that you're constantly aware of, so that you don't deviate." But it also stems from that desire to keep moving forward, not relying simply on what's worked before, but marrying that experience and expertise with new ideas and fresh experiences.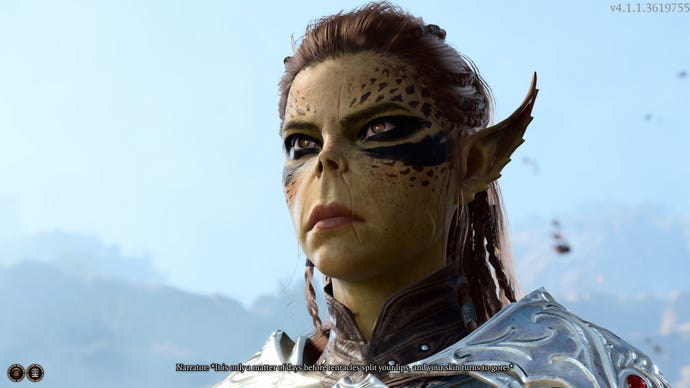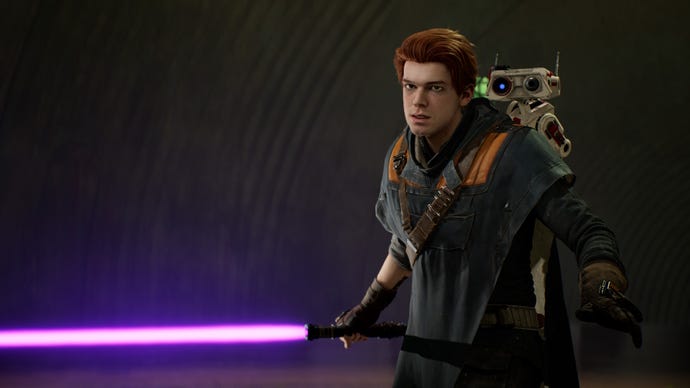 It's an ethos that sits right at the heart of the studio's composition, too, and Foertsch explains that his decision to build his team in such a way that "a little less than half" of them have a "deep strategy pedigree" while the rest doesn't was fully "intentional". This is so that everyone can bring their ideas to the table, whether they're an artist, animator, or the creative director. "Bring it, tell me how you would make it, tell me what your experience as a developer has been in that genre, and is there a place where they cross?" Foertsch says, giving an example of how their cinematic director "just brings a totally different sensibility to all the camerawork" in their Star Wars game thanks to them having "been on the Gears franchise forever" while working at The Coalition. "He has ideas that I never had, and so for me, I'm just like, throw it all out there and I'll tell you where to cross the line, and I'll reel it back in."
It's one of the many ways Foertsch is trying to steer the project so as to avoid things "we've tried before and it didn't work" and "embrace things that we've never thought about or are new to us". Ultimately, Foertsch says his goal - in addition to "just making a great game that happens to be a strategy game" - is "trying to look at those spaces and just defy the box that people try to put games in." Depth, he says, should not cost you elegance at the end of the day, and "you should be able to have an absolutely gorgeous-looking game that is also deep, and you're not trading one for the other."
The strategy genre may have been late to party on several fronts back its pre-XCOM days, but Foertsch believes it's now "the genre with the most room to grow, innovate and change, and have rich stories and immersive art, and it just hasn't gotten its due." Whether Bit Reactor's Star Wars game will be the one to realise that, in an era of mass layoffs and studio closures, only time will tell. But based on what Foertsch has told me about how they're approaching the genre and using their knowledge of the past without being constrained by it, the future seems promising. Here's hoping Bit Reactor's careful rebellion against its own genre is a successful one.