I Am Space Agog At This X-Rebirth Gallery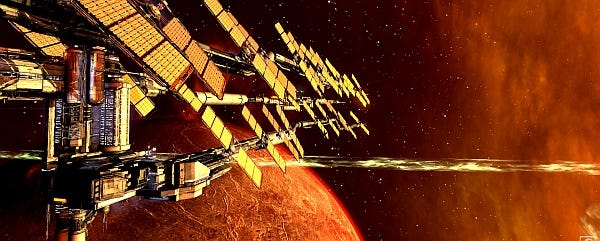 The facile part of my brain that likes pretty things is currently whacking my internal dopamine button and I'm grinning like a quokka. That button is well worn after my last look at X Rebirth, where I watched X- Rebirth being unveiled through through tear-rimmed eyes. One eye was soaked in tears from the beauty and excitement from what I was seeing, and the other was full of sad tears because I have to wait until November 15th to play it. Those tears are welling up as I look at the new Gamescom screenshots. Oh god, it's so so pretty.

Until Egosoft unveiled X-Rebirth properly, it was always going to be a game I happened upon in my Steam list late one night, which is where all my other X-periences have started (aha!). But now it's the most exciting thing on the horizon for 2013, and I've been exposed as a filthy graphics groupie. I'll do anything for those polygons. I have a vague idea as to how it will play: a slow burn trip through a changing galaxy. That'll do. As long as lessons have been learned about accessibility, and the 3.0 patch to X3: Albion Prelude addressed joypad control so there's no reason why it shouldn't be easier to play, then this is where I'll be spending November. Maybe December, too. Come to think of it, January looks quiet as well.