IGF Winners! Monaco's Gamble Pays Off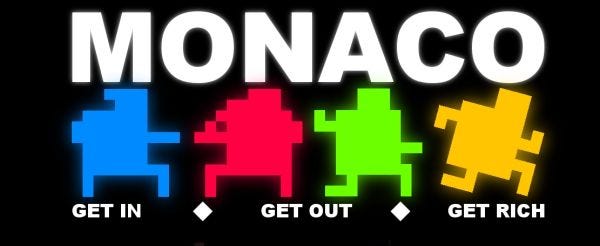 And the IGF winners have been announced and Monaco is the belle of this particular gaming ball, picking up two awards, including the Grand Prize. The incredibly atmospheric Limbo also picked up two awards, for Visual lookitude and technical prettiosity. The Grand Prize winner takes home $20,000 (Count 'em) dollars, with all of the other categories bringing home $2,500. Except for the D2D one, which is 10K. A run down of all the winners follows. Well done all. And lend us a fiver.

Seumas McNally Grand Prize:
Monaco, by Pocketwatch Games

IGF Nuovo Award:
Tuning, by Cactus

Excellence in Visual Art:
Limbo, by PlayDead

Excellence in Audio:
Closure, by Closure Team

Technical Excellence:
Limbo, by PlayDead

Excellence in Design:
Monaco, by Pocketwatch Games

Student Showcase Award:
Continuity, by Ragtime Games

IGF Mobile Best Game:
Spider: The Secret Of Bryce Manor, by Tiger Style

Audience Award:
Heroes Of Newerth, by S2 Games

D2D Vision Award:
Max & The Magic Marker, by Press Play
Thoughts? Well, my actual analysis wasn't that far off, though I generally had far too little faith in the judges. I thought Monaco's MP-centric nature would trip it up, but clearly not and I'm very excited to see what happens next with it. Limbo and Closure are - for want of a better phrase - very IGF games, and certainly are fine examples in their categories. And go Cactus, etc.
I admit, I totaly forgot about the audience award. Basically, it was voted for by the public here, based around the people who actually have a demo of the game already out. And Newerth - which has 1,000,000 people in its beta - managed to somehow come top. Who'd have thunk it?