Leaked video reveals details of Overwatch Anniversary Event
Come gaze upon Captain Bigboy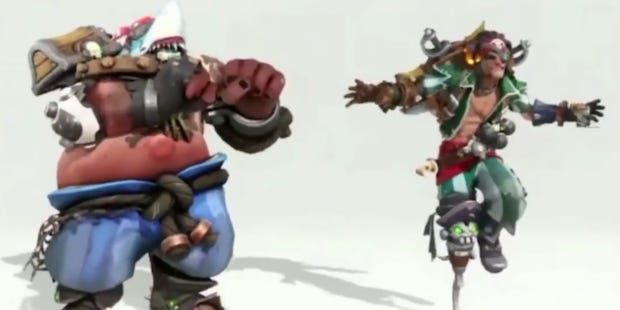 My dude Junkrat is looking glamorous as ever, in a leaked video from the Brazilian Overwatch Twitter account. Keen eyes from the Overwatch Reddit saw what Overwatch Twitter was messing up on, and posted the video to Overwatch YouTube. Or something. Point being, we've got a look at what's happening for the game's second birthday celebration, despite Blizzard not being super keen on the whole leaking to-do, I'm sure.
And Junkrat? Junkrat's a legit pirate now. We have to call him Captain Bigboy. That's the law of the sea. Sea Law.
Items and brawls from previous events are set to return, per the video, although no specifics are given. What we do see are a lot of costumes that we've mostly seen before. The glimpse of Captain Bigboy is fine, but as a fellow Frankenstein American, I'm happy to see that Frankenstein's Monster outfit come back. He looks less like an actual monster and more like the monster from a late 80s rap video? FrankenJunkrat is hosting a helluva house party. Am I the only one that sees this?
Oh. I forgot to include the video. You haven't seen anything at all. Ok here's the aforementioned captured leak:
Last year's anniversary event added maps, skins, and other such things that would've cost players (in total) up to 60k in credits... which was not received warmly. Here's hoping that Blizzard learned to never gauge fans for money and that this year will be an entirely non-monetized celebration of the community which--- sorry, I'm sorry. Couldn't do it with a straight face. We all know what we're headed for.
I wouldn't be disappointed to hear a small aside about Blizzard's unannounced game which is probably in a laughably early stage of development. That doesn't mean that someone at a podium can't just whisper the words "Diablo With Guns" for my enjoyment.