On Moddin' Pond: Life In The Woods Mod Pack For Minecraft
Walden on sunshine, woh-oh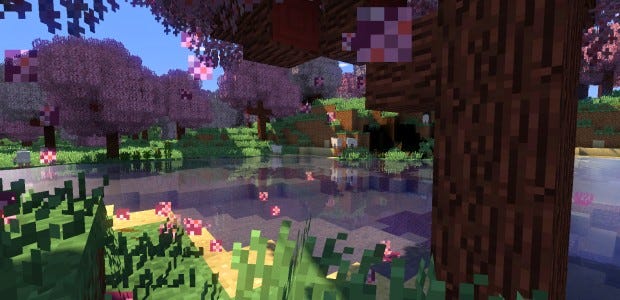 There are thousands of Minecraft mods threaded through dozens of forums and fansites, but it takes some effort to find tweaks, shaders and texture packs that fit well together. Life In The Woods has done the hard work for you: it's a mod pack "about exploration, simple living, self-sufficiency, creative expression and veganism", inspired by the writing of Henry D. Thoreau, and its three-minute trailer shows Minecraft more gorgeous than I've ever seen it.
I am a sucker for pink trees. The mod pack was released back in late March, but I'm only finding it now because Jim only linked it to me this morning. Why was he hoarding it all this time, keeping it from my hungry eyes? Only Jim can know.
There are 24 mods in the set, some of which any occasional Minecraft modder will recognise - Biomes o'Plenty, for example - but there's plenty more in the set I've never played with. Including Chickenshed, which is not a shed for chickens but a code change that causes chickens to shed their feathers.
The modpack also comes in two flavours: basic and hungry, where the latter incorporates the Hunger Overhaul mod and makes survival in the wild a more involved and stressful experience.
Installing it is a slightly fiddly process, since you need to install Forge, grab an old version of Minecraft (easily done through the Minecraft launcher) and then pop the Life In The Woods pack into the appropriate place. There's brief instructions on the modpack page, but if you need more detail this short video will guide you through.
Downloading Life In The Woods will quickly have you writing your wistful Moominpappa memoirs while staring upon a forest of giant trees, but at least some of the loveliness in the trailer above comes from shaders which aren't included in the pack itself. That's a shame, though you can download the set used, Sildur's Vibrant shaders, easily enough.
I've returned to Minecraft recently, falling in love again with the simple beauty of its landscapes, its weather, its sense of discovery. This modpack's various additions create a more sensational natural world than Thoreau might have craved, but I think we should allow ourselves the indulgence. It's a 10MB download from the Life In The Woods site.