Lúcioball heads back to Overwatch, brings new and old summer skins
M-m-m-m-Lucioball!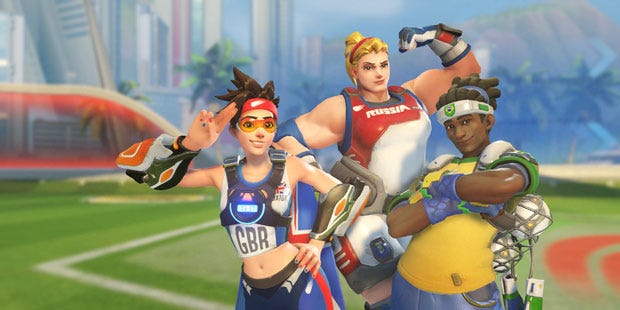 The Overwatch [official site] Summer Games are returning to PC (and some other platforms WHATEVER we don't speak of them) on 8 August. It's a pretty meaningful date, what with it being the 141st anniversary of Thomas Edison's mimeograph patent being received and the 1900th anniversary of the death of Trajan. What would Blitzball Blernsball Lúcioball be without mimeographs and mourning Trajan? Nowhere. That's where.
That's the relevant developer update video which uses hot terms like "iteration" and "pertinent information".
TL;DW?
1. Lúcioball is coming back with the 2016 Rio stadium and a new Sydney arena to play in. Tweaks to the way it plays include that you can no longer "boop" people and Lucio's ultimate works a bit differently, like he's just got a surge of energy rather than becoming able to drop in some cheesy strats.
2. There will be a competitive Lúcioball mode (Copa Lúcioball) alongside regular kickabouts for three weeks. Playing ten games in that mode gets you a special spray. Placing in the top 500 players in a region gets you a really special spray.
2. Last year's skins are returning so players have a chance to pick up what's missing from their collection. You can also unlock them using in-game credits (thus heading off the brouhaha from last year where you couldn't) with the older cosmetics costing fewer credits than the new batch. The reduced rate of duplication in loot boxes (brought in during Patch 1.13.0.2a) will apply here. There are also new skins and #content, like a legendary skin for Junkrat and something for Mercy.