Maximum Graphics: Crysis 3 To Support DX11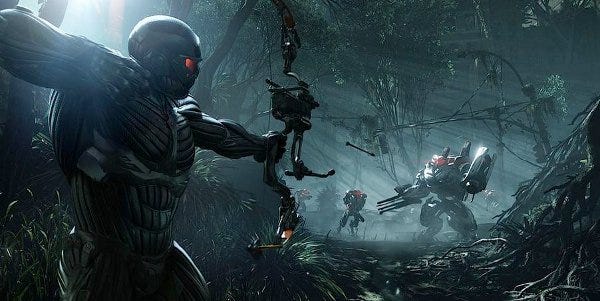 It was the night before Crysis 2's launch, and all through Crytek, not a creature was stirring - not even a fry... tech. But then, in the midst of laying down for the extended cryogenic sleep that traditionally follows Crytek's development crunches, one developer bolted upright. "Everyone," he turned and said to the others, nestled in their infernal healing contraptions, "I feel like something's missing." Then his eyes bloodshot eyes went wide with horror. "We... we forgot the graphics." And so it was that Crysis 2 shipped with no DirectX 11 support and only a few preset graphics options. In time, however, Crytek sent PC gamers an apology basket filled with magical pixels, and all was (mostly) well. And happily, with Crysis 3, the developer plans to include more graphics than ever before.
Director of creative development Rasmus Hojengaard explained to Joystiq:
"I don't know if we've announced that yet, but obviously we're going to have DirectX 11 support since we already did it [for Crysis 2]. We basically started from a Crysis 2 DX11 patch, as starting point, and then we developed our technology from there on. We'd be pretty stupid not to capitalize on the technology we did for that and utilizing that from the get-go."
Community manager Tom Ebsworth went on to confirm the news via Twitter and even retweeted himself, presumably to show how much he meant it. That said, Crysis 3 will also continue in the series' tradition (since Warhead, anyway) of scaling down to lower-end machines without having geologists show up at your home to investigate suspected volcanic activity.
We, too, have seen the game and will tell you more soon. In the meantime, know that it's another Crysis game, the bow looks wicked fun, and there are frogs. And truly, what is DirectX 11 good for if not rendering tiny hopping swamp creatures? So thank goodness for that.