Beta Not Cry: Crysis 3 Open Beta Begins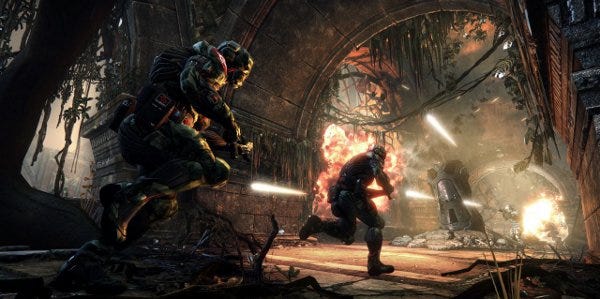 It is a wonderful week for insanely inventive videogames. The long-awaited Antichamber (which I'm splattering my feeble brain against right now) lands on Thursday, and 2013's Global Game Jam just forced a hand inside its own sternum and produced a glistening goldmine of bloody great games. But in between all that, I know I'll be needing a slightly more traditional palette cleanser. Enter Crysis 3's open beta. Men get shot, and they neither spray you with chunky metaphysical sophistries nor make you suddenly aware of the faintly fluttering organ that could stop sustaining your life at any given moment. They just, you know, stop shooting back. And so on and so forth. But oh, there are neat powers. And bows. And some - in the grand scheme of shooters - fairly novel modes. Study up on their mysterious ways after the break.
After seeing them in action, Crash Site actually looks a fair deal more interesting than I thought it'd be. On paper, Crytek just made it sound like a hum-drum high-tech take on king of the hill, but the focus on environmental interaction, especially, has me uprooting telephone poles with glee. The giant robot is also a nice touch. I will name him Francis.
The beta's running right now, and will continue to do so until February 12th. So no rush, but kind of a rush. You should be able to find the download in the demo section of Origin, so hop (multiple stories in the air, using magical nano powers) to it. Also, this is Crysis we're talking about, so you might want to update your graphics card drivers. Happy hunting!