Minecraft Windows 10 launching mod Marketplace
Let's try this again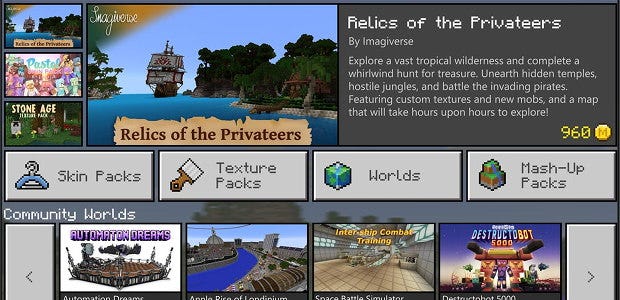 All right: who picked Minecraft in the pool for who'd try paid mods next? Come see me to collect your winnings. Mojang have announced the Minecraft Marketplace, a microtransaction store coming to sell skin and texture packs, adventure worlds, minigames, and more in the brick 'em up's Windows 10 and pocket telephone version. Mojang say they'll curate the store and only accept submissions from registered businesses, so it won't be quite as much of a free-for-all as Steam and Skyrim's crack at paid mods in 2015. And this is only in Microsoft's rebuild of Minecraft, to be clear, not the original Java version.
The Minecraft Marketplace is due to launch this spring. Purchases should be cross-platform through shared Xbox Live accounts. Today's announcement says:
"The idea is to give Minecraft creators another way to make a living from the game, allowing them to support themselves in the creation of ever-greater projects, while giving Pocket and Windows 10 players access to a growing catalogue of fun stuff - curated and supplied by us, safely and simply. And, of course, you can still manually download free community creations you've found out there on the internet, too."
Items of on the Minecraft Marketplace will be sold for 'Minecraft Coins', a virtuacash sold in bundles in the usual microtransaction way. How much will things actually cost? All worlds in the few announcement screens are priced at 960 Coins, which comes out at around $5.50. Mojang do say the Coins "let creators set flexible prices" so... prices are a little hazy right now. As is how well it pays creators.
Mojang say that "the app store platforms take a 30% cut, but creators get the majority after that." Without precise figures or a breakdown, I couldn't tell you how it'll shake out. Steam offered modders a 25% cut.
As I've said before, I don't strictly oppose paid mods as I do think it could let more people support their work - and the thriving and vibrant free games scene shows many are happy to still release things free even when they have the option of monetisation.
Modding is huge in the Java version of Minecraft, big enough that many players ignore official Minecraft updates until their favourite mods carry over. It's wild and free, and it neither needs nor could support a Marketplace. The new version of Minecraft, while it does support mods, doesn't have that same scene. This change can't destroy much and may help grow an interesting world of player creations.
I do wonder quite how the launch will be handled. I've seen Minecraft on a tablet plonked in front of many a child to keep 'em quiet, and I can't imagine many parents pay attention to quite what its updates add. I'd be surprised if Mojang haven't thought of this but who doesn't enjoy a good "My child spent £2000 on microtransactions, oh god how did this happen" headline?
The Minecraft Marketplace will enter beta on Android in mid-April, to test Coins rather than the content. Mojang plan to hold an 'Ask Me Anything' session on the Pocket Edition subreddit on April 20th from 5-8pm (UK time), so we should learn more about all this soon.
[Disclosure: Marsh Davies, our former resident Premature Evaluator, now works for Mojang. He does... something? Dunno. Never spoken to him. But I've happily slopped across a few marshes in my time, and I bet he loves those jokes.]