Minecraft's Endermen Are Creepy, Blinky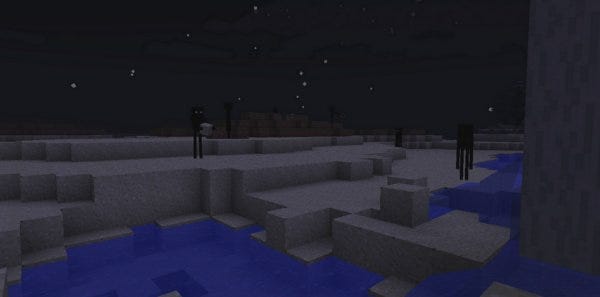 One of the most disappointing things to realise in life is that there are no original ideas. Just the other day I was blathering about how games should have teleporting enemies and wouldn't it be cool if more stuff blinked about to get into melee combat with you... And lo, just a few days later, Notch announces a new teleporting baddy for Minecraft. That said, Notch's idea gets better: The Endermen are tall, spindly beasts that slowly move blocks around the landscape. Rest your reticule on them and they turn to look at you. Then, when you look away again, they come charging and teleporting across the landscape to attack you. Freaky bastards. Notch explains in a recent blog post: "I made it passive until you looked straight at it. And that was scary. Suddenly you could walk up to these looking beasts (they're three meters tall) and watch them as they moved their blocks around, but as soon as you happened to look straight at them, they'd attack."
The Endermen are part of the forthcoming adventure update. I can't wait.