Matryoshka Computers: Minecraft Hardware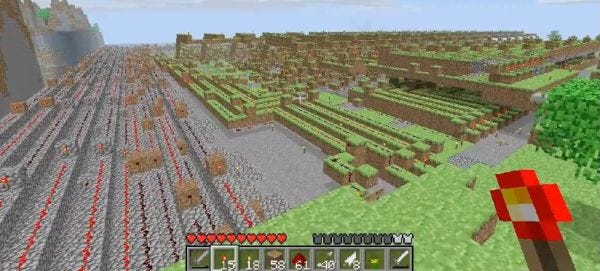 I'll not apologise for posting another Minecraft video. Because it's a thing of joy. Interrupting yet another late night playing the game (tonight I'm laying some nice flooring upstairs in my house, and checking out some newly discovered caves for much needed iron) was an email pointing us toward something that at least equals this morning's Enterprise model. It's a functioning 16-bit computer. Oh yes.
Now, for all I know he could be just making pretty red lines light up in random orders, because my understandings of the insides of a computer are on a parallel with my understandings of the workings of Kieron's mind. But I rather suspect it's for real. This looks extraordinary. Again, it's been designed outside of the game and imported in - clearly to do it in-game would be a special kind of madness when importing options exist. But many hours have gone into refining it since, with many more hours planned. Have a look:
He's going to make RAM for it? But, huh?
Okay universe, here's your new goal: A computer built in Minecraft that can run Minecraft.
Subscribe to theinternetftw's YouTube page for videos of his progression. Big thanks to Gabriel for pointing us this way.