No Emotions, Just Explosions: Broforce!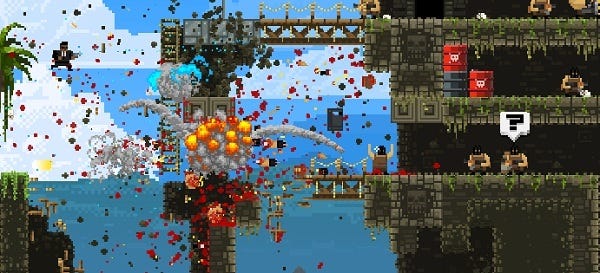 The headline refers to the trend for overwhelming emotional experiences in modern man-shoots. In Broforce! there is none of that. Brosplosions create ex-bros, decimating chunks of scenery and causing enemies to bounce, bleed and bellow as they perish in a fountain of red pixels. The millennia's worth of the 1980s that have been packed into the game is nothing more than a distraction because beyond the silly characters - Rambro, the Brominator - and daft title, Broforce! is a beautifully designed game. Think of it as Contra with destructible scenery and increased mobility, or a side-scrolling Cannon Fodder, or even Spelunky except with exploding everything. Barrels burst, bridges tumble into chasms, giant vehicles fall from the sky. Watch the trailer, play the free brototype and you will become a believer.
Eurogamer reckon "Broforce is what The Expendables game should have been" but that's not going far enough. This is what The Expendables films should have been.
Currently traversing Steam Greenlight.