Oh Me Oh Maia: Now On Greenlight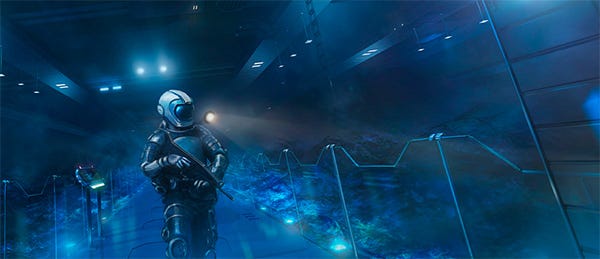 Questioning crowds about their commitment to Maia caused one of the most tense Kickstarters ever. It eventually cleared the goal with room to spare, but for a time the future was not so certain for the space colony management simulator. With the game on firmer footing, and the alpha in the hands of backers, developer Simon Roth has taken the next and inevitable step of dropping it on Steam Greenlight and hoping for a positive community reaction. He's even rustled up a new trailer for the very purpose. Let's look.

It's a foreboding mix of sci-fi simulator and god game, with a simulation so complex that the usually stoic Adam gasped at it. The larger scope of the game isn't really covered in this trailer, instead it takes a few minutes to show off the atmospheric and hellish planet of Maia, the brain-mangling first-person view, and a few segments where the building tools are on display. This is from very early alpha, 0.29.
There are other videos on his channel to help you make up your mind, and Roth has marked the next video as a favourite on Youtube. I wouldn't imagine it's how he'd demonstrate his game, but it does show it running, a few of the selection mechanics, and the changeable awfulness of the weather systems.