One of the fastest SSDs is down to £155 for 2TB at Amazon UK
Corsair's MP600 Pro LPX is a fantastic fit for PC or PS5.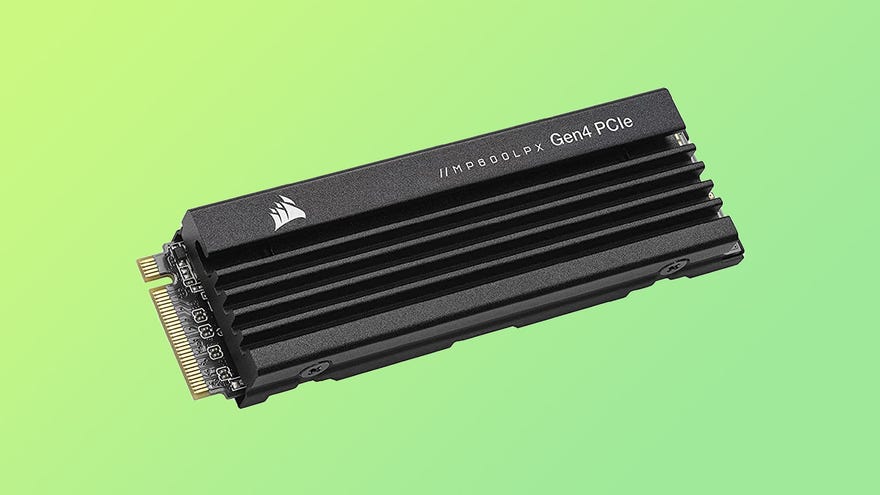 The Corsair MP600 Pro LPX is a great SSD that we've recommended before, on the back of its excellent performance - and often, great value too. Today it's cheaper than usual, with the 2TB drive dipping to £154.99 on Amazon UK - that's £45 below the £200 price point we wrote a deals post to commemorate back in January!
The reason I'm a fan of this drive is that it offers performance well in line with the very fastest gaming SSDs, like the WD SN850x and Samsung 990 Pro, but it undercuts them on price by a decent margin - as of this deal, it's a solid £12 cheaper than the WD drive and £16 cheaper than the Samsung. And that's for the cheapest models of these drives, which don't come with heatsinks - while the Corsair drive does.
Having a heatsink is a nice extra for most use cases, but it's not ideal for use in some small form factor PC cases or in laptops. The heatsink is removable if necessary, but this may invalidate the warranty so it's best to go for a heatsink-less alternative - such as the drives mentioned and linked above - if your form factor doesn't allow for it. However, for most desktop PCs (and the PS5) this isn't an issue, with the low-profile nature of the heatsink allowing it to even fit beneath some GPUs without issue. The idea here is that the heatsink allows performance to stay high even under sustained loads, so it's definitely worth having if it'll fit!
I mentioned the performance earlier, so let's return to that. This drive comes with a 7100MB/s peak read speed and 6800MB/s peak write speed, backed up by impressive 1.0M IOPS random read speeds and 1.2M IOPS random write speeds on this 2TB size. Longevity is also good, at 5 years or 1400TBW (terabytes written), and the drive's composition also ticks all the boxes with TLC NAND flash and a 2GB DRAM cache - nice.
Overall, this MP600 Pro LPX drive comes highly recommended for PC or even PS5, so it's well worth picking up at this reduced price.