Overwatch gets spooky with Halloween Terror event
Boo!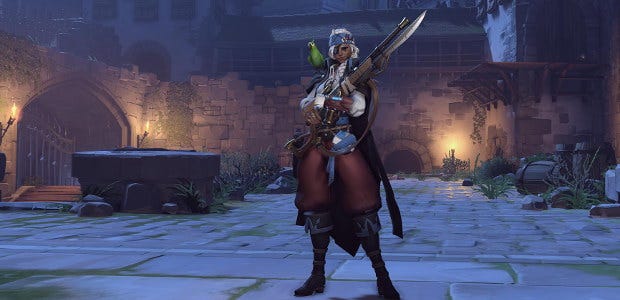 Ha ha ha hwelcome to Spooky Season on the information superhighway, when the signs are draped in cobwebs and the bytes have renamed themselves bites. Overwatch [official site] joined in the spooky fun last night, launching its Halloween event with two cooperative modes (well, one-and-a-half) and loads of spooOoOoky costumes and other cosmetic bits to collect. This year's Halloween Terror event brings back Junkenstein's Revenge, a cooperative Brawl mode where four players defend the castle gates from the dastardly Dr. Junkenstein and his creations, and also adds an endless version with leaderboards. Did I mention the hats?
Last year's Halloween Terror cosmetic items have returned with more t'boot. Dress Torbjörn as a viking, get Zarya pumped for the '80s, see Mei hopping along as a jiangshi, shiver as Reaper becomes a dracula, McCree goes Van Helsing to stop him, Ana yarrs it up a pirate, and Symmetra goes for a classic: sexy dragon.
Also emotes and highlight intros and voice lines and... there is lots of spooky stuff in the Halloween Terror Loot Boxes.
The Eichenwalde and Hollywood maps are spookified too.
As for Junkenstein's Revenge, it tasks McCree, Soldier 76, Hanzo, and Ana with defending the castle gates against increasingly difficult waves of monsties. This year also brings Junkenstein's Revenge: Endless Night, an endless version which also makes Genji, Torbjörn, Widowmaker, and Zenyatta playable.
Halloween Terror started on October 10th and will run until November 1st. See all this and more in the trailer: