Moonshot: Overwatch's Horizon Lunar Colony map's live
MOON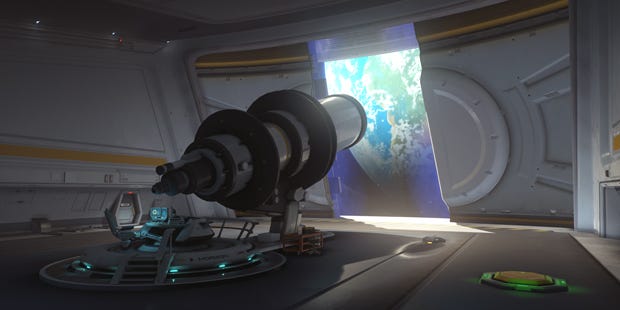 Overwatch's [official site] moon arena, Horizon Lunar Colony is now live. The assault map's origin story is all about exploration and science and all of that kerfuffle which sounds so grand and optimistic. Nowadays (i.e. in the future-present of Blizzard's FPS-iverse) it is a contested set of facilities where heroes mangle one another with lasers.
On the negative side that feels less grand and optimistic. On the positive side, it means that universe has the technology to send people to the moon all the time.
According to the vid there are plenty of map references to ape scientist Winston's origins cinematic and there are a bunch of hints you can use to construct a basic timeline of events on the colony.
The big thing for me is that they mentioned hydroponics and it looks like you can see all of these plants growing in little containers. I love seeing plants growing in space games, partly because they're often beautiful splashes of green life within artificial or inhospitable environments but also because it means I can then justify reading about people growing peas on the International Space Station for work. Here's NASA's page about growing veggies in space.
"Growing food to supplement and minimize the food that must be carried to space will be increasingly important on long-duration missions," said Shane Topham, an engineer with Space Dynamics Laboratory at Utah State University in Logan. "We also are learning about the psychological benefits of growing plants in space -- something that will become more important as crews travel farther from Earth."
The full patch notes can be read here. I would dig a bit deeper with them but I've realised it's been a while since I played so picking out the big 'uns will be tricky. Instead, let's flip reverse it and you can tell me if anything catches your eye. That way I can try to get a jump on my competitors as I return to the game this week!