Overwatch off to Korea in new map and D.Va animated short
BEWARE THE COW'S JIGGLING UDDER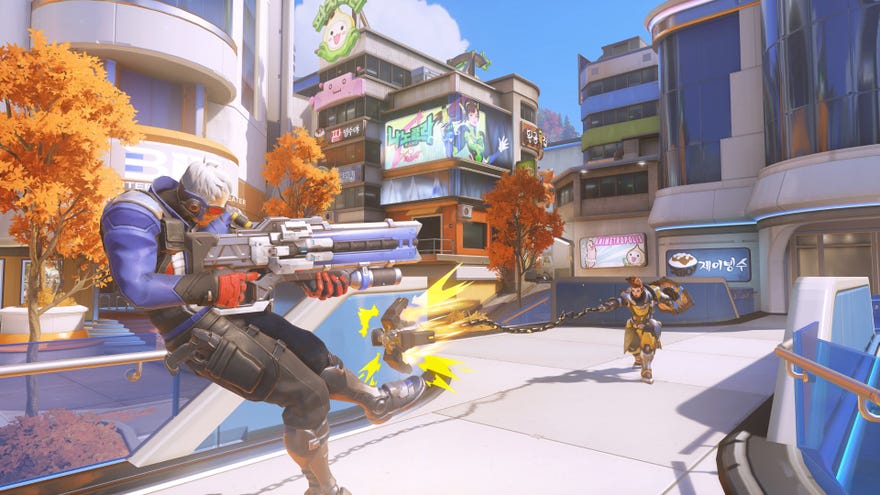 The next map added to Overwatch will tour the South Korean city of Busan, Blizzard announced today, for Control Point action. It'll swing through a historic temple, the bustling downtown, and out into the bay to the Meka base of ethelete-turned-hero D.Va and her robopals. The map will hit the multiplayer FPS's public test servers today, then launch properly at an undetermined point once it's... tested? That announcement is accompanied by more of Overwatch's crufty lore, focusing on D.Va and her struggles with PTSD. Another good time in the wacky world of Overwatch.
First, here's the trailer introducing Busan:
Blizzard say they put a lot of time and effort into getting sounds, music, signage, and such right. All I know is: that cow horrifies me. 'Auto-cannibalising animal' is the most fascinating and awful genre of mascots and signage.
As for D.Va's animated short, named Shooting Star, Blizzard have once again looked past the goofy fun of the game they've created and the world fans have expanded around it in order to pretend it's oh so serious. Everyone knows that a day off for D.Va means scoffing gamer triangles and causing trouble for her dads, Soldier: 76 and McCree. But when Blizzard look at her, they see a teenager with PTSD and a reckless disregard for her own life. Alrighty then!
These announcements came, fittingly, at the Korean Overwatch Fan Festival in Seoul, South Korea today. This also meant they were preceded by a performance from K-pop girl group Fromis 9, which sadly Blizzard have not yet slammed online. Talk about burying the lede...