Overwatch's First Animated Short Introduces Winston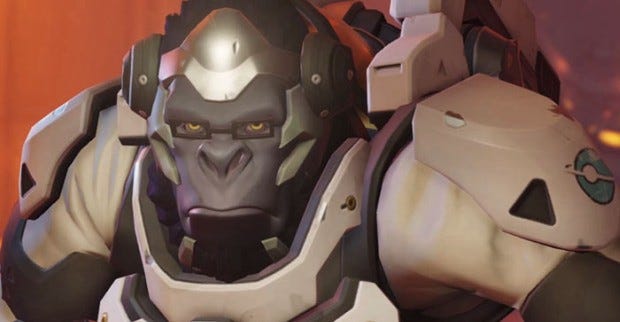 Overwatch is less like Team Fortress 2 than it initially appears, but one of the ways in which it is similar is that Blizzard are producing a series of short animated trailers to introduce each of its characters. That begun last night with this first video introducing Winston, the "super-intelligent, genetically engineered gorilla" pictured above. You can watch it below.
I liked this.
I'm unlikely to ever get seriously in to playing Overwatch, but I couldn't get enough of the Team Fortress 2 shorts when they were being released and I'm thrilled at having more like it. I'll watch animation all day if given the opportunity - I recommend the yearly output of students at Gobelins, if you're similarly inclined - and the animation here is slick and easy on the eye.
I'm also at the very least intrigued to learn more about Overwatch's world. It's comic book-y and Winston is basically the Beast from X-Men mashed together with Gorilla Grodd and a dozen other 'smart gorilla'-types, but I like all those things, too. The video above introduces not just Winston but the world the characters inhabit, in which continuing world strife tempts Winston to recall the superheroes Overwatch, who have been outlawed and its members scattered far and wide.
You should just watch it. It goes well with your morning coffee break.