Pathfinder: Kingmaker bringing tabletop RPG to PC
Of course Chris Avellone is involved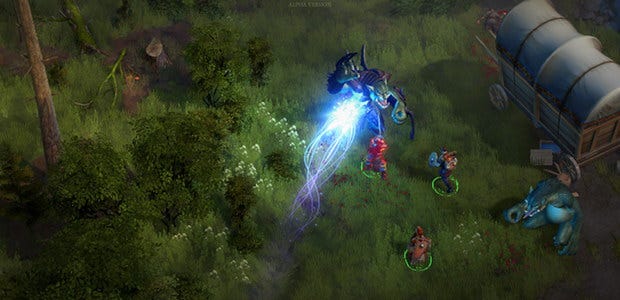 Paizo's pen & paper fantasy RPG world of Pathfinder is being computerised in Pathfinder: Kingmaker [official site]. Developers Owlcat Games today announced the upcoming isometric RPG, also boasting that they've booked the narrative design services of Chris 'The Human Stretch Goal' Avellone. The game will visit the Stolen Lands wilds of the RPG setting for your usual questing duties, with a dash of kingdom-building. Probably bears too, I reckon. Bandits, surely.
Not knowing Pathfinder myself beyond being that RPG which some folks keep recommending as an alternative to Dungeons & Dragons, I turned to the Internet. Looks like: it is a fantasy RPG. Okay then! Today's announcement says that Pathfinder: Kingmaker will "revisit familiar characters and well-known locations" as well as doing its own thing. The blurb continues:
"Pathfinder: Kingmaker will challenge players as both adventurers and rulers as they will be able to claim explored lands and carve their own kingdom from the wilderness. Kingdom founding will go beyond simple stronghold-building to become a true reflection of the hero's character and choices made throughout the game. Each kingdom will be a living thing shaped by alignment, choices, allies and the hero's ability to lead his or her people."
Owlcat Games are a small studio within free-to-play publisher My.com. Kingmaker will not be free-to-play, mind, and My might not even publish it themselves. "[. . . ] the plans for publishing are not fully set in stone yet," My told us today, "since the business model (Buy to Play) differs from our core." Similarly, they're not yet sure whether they'll try to crowdfund this or what.
No firm word yet on when the game will launch.
Speaking of Pathfinder games, the makers of crowdfunded MMORPG Pathfinder Online recently laid out their roadmap for reaching a sturdy state. "Because we have this small, scrappy team, we aren't aiming to compete with the AAA MMOs of the world," they said in March. "Rather, we will be more of an indie MMO aiming at providing a fun and engaging game to a more niche market." They're hoping it'll be ready for a wider audience in March 2018.