Pick up this SanDisk Extreme Pro 1TB Micro SD card for a historic low price
Extreme speed, maximum capacity for Steam Deck and Switch.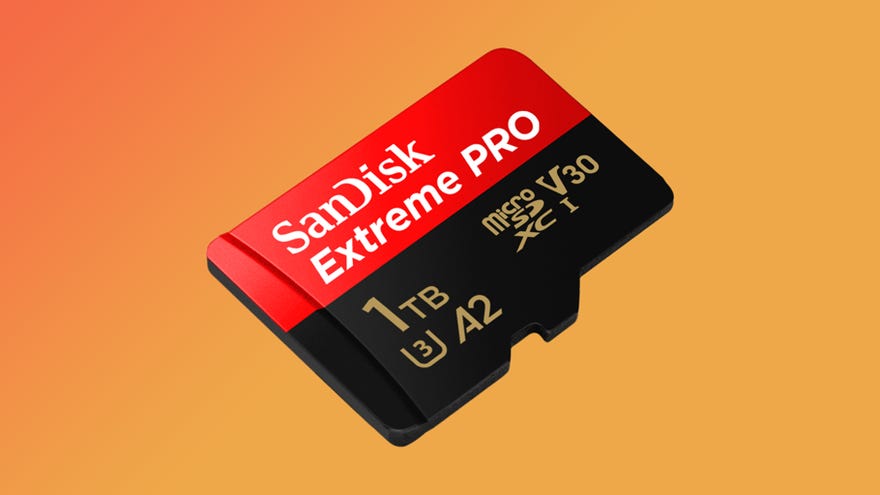 Last week we posted a deal on a fast 512GB Micro SD card, and now we're back with another UK deal on an even faster and even larger model ideal for high-performance applications, from loading up a Steam Deck or Switch with a huge amount of game storage or capturing 4K footage on a DLSR, action camera or drone.
The SanDisk Extreme Pro 1TB is as good as it gets when it comes to Micro SD cards, with up to 200MB/s reads and 140MB/s writes, and it's down to £140 on Amazon today compared to £172 for the same card earlier this month.
For your money, you get an extremely rapid card that outperforms basically anything else in this category, minimising game load times and particularly game transfer times.
Arguably this level of performance isn't needed for Switch or Steam Deck, which are more limited by the speed of their interface, but given that you can get the base level Steam Deck for £349 and this card for £140, it's actually a significantly cheaper way to get more than 1TB of total system storage than buying the top-end Steam Deck option which only comes with a 512GB SSD. This is especially true if you're happy to install your own 2230-sized M.2 SSD in the Steam Deck later!
In any case, this is a sweet deal on this level of Micro SD performance, and well worth knowing about - I hope you'll agree!