Pillars Of Eternity Expansion Out, More Pillars Coming
More fantasy fun!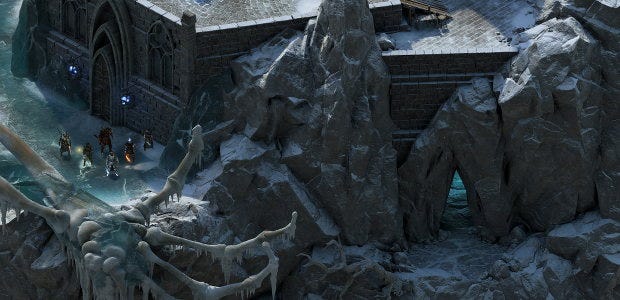 The second part of the Pillars of Eternity [official site] expansion The White March is out today, as promised, and developers Obsidian Entertainment are continuing to tease that more fantasy RPG fun may be still to come. Another expansion, maybe? A sequel? They're not saying. But for now, hey, the expansion is out and so is that big patch. You've got plenty of Pillars to play for now. Enjoy that and then worry about what's coming next, okay? Take it easy. Take a deep breath. You've got this. I believe in you.
The White March: Part II wraps up the story of its icy journey, picking up a new companion as it goes on new quests and fights new enemies and bosses and whatnot.
The release announcement says that this "concludes the epic story of Pillars of Eternity, and brings closure to one of the most successful Kickstarter campaigns of all time." And then Obsidian's CEO Feargus Urquhart casually adds that "we've got plenty more stories we plan to tell within the world of Pillars of Eternity." That could be a sequel, an expansion, DLC, a novel, a comic, a card game, a... who knows! They've sold over 700,000 copies, so there's certainly a bit of interest.
As for update 3.00, that's out now for all players, whether they own the expansion or not. It brings things like a 'Story Time' difficulty level for people who want to make it easier, or options like Knockout Injuries for folks who want it to be more difficult. You'll also find a new quest line, a rebalancing, and plenty more detailed in the patch notes.
The White March Part II costs £10.99 by itself (on Steam and GOG), same as the first, or both together are £18.99 (Steam, GOG). Have a launch trailer: