Scream if you wanna ho ho ho faster in Planet Coaster
Ho ho hooooo no I'm gonna hurl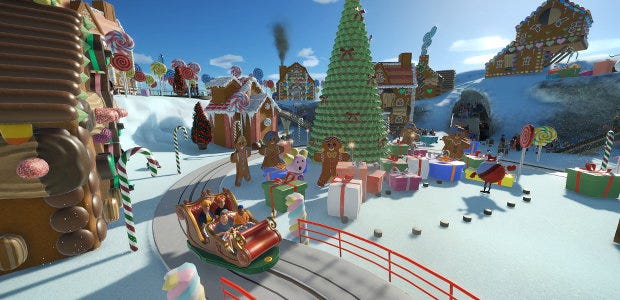 It's beginning to look a lot like Christmas in Planet Coaster [official site], thanks to a big update launched last night. The Winter Update has added a snowy new biome, Christmassy new decor like gingerbread buildings, new shops, and new rides including a sleigh ride, bumper cars, and something that does a lot of spinning. Yes, you can now create Elfland and take guests through the seven layers of the candy cane forest, through the sea of twirly, swirly gumdrops, then through the Lincoln Tunnel. On a more practical level, the patch has introduced a few handy new management features too.
Here, this trailer shows off the festive newness:
Steam trains! Dodgems! Sleigh rides! Shops named after Pip! And I really do like how Christmassy it all looks. That's built upon the snowy new 'Arctic' biome, and the update's festive decor includes gingerbread walls to build with, icing decorations, and 140 scenery pieces from snowmen to baubles. Planet Coaster isn't really for me but I'm still keen to see what friends and The Internet At Large make with these.
As for, y'know, actually running a park, Frontier Developments call these changes out as the patch's highlights:
Macro management features added; in the Attraction and Shops tab you can globally set prices, sync shops and open/close attractions.
There is now an 'All Staff' view, which lets you change their salary, training level, roster, and workload all at once!
You can now also place multiple staff members of the same type simultaneously in your parks!
Ride/Coaster prestige is now shown on the Info panel and changes with time (initially decreasing and then increasing as the ride gains classic status.) Prestige is also communicated in the form of guest thoughts and notifications.
A recently used tab has now been added to each browser category.
A delete path button makes it that it's easier to change around your pathing!
The patch does way more, mind. Head on over to the full patch notes to read about performance optimisations, UI changes, and bug fixes aplenty.