Play Sea Of Thieves for free with the Xbox Game Pass
Save your doubloons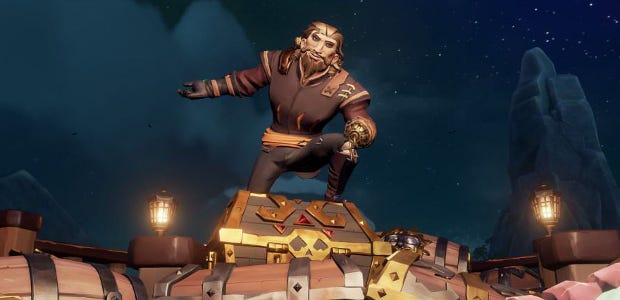 Sea Of Thieves hit the high seas last night, which is probably why I'm a little bit sleepy this morning. Since reviews aren't up yet, you might be appropriately hesitant about jumping into the water. Even pirates do their due diligence. But waiting is also incredibly boring, so it's a good thing that you can potentially play the game for absolutely nothing with the Xbox Game Pass.
The Xbox Game Pass is Microsoft's subscription service which nets you a bunch of Xbox 360 and Xbox One games for a monthly subscription cost. In the UK it's £7.99. The service also includes a few Xbox Play Anywhere titles, which let you play on Xbox and a Windows 10 PC. There are only a handful of these games on the Xbox Game Pass, but that now includes Sea Of Thieves.
If you purchase the Xbox Game Pass, you'll be able to download and play Sea Of Thieves until your subscription ends. I can't see the game's four or five activities, as fun as they are, keeping me interested for longer than a month, and if you're the same, you'll have saved over £40.
But I said "absolutely nothing", and £7.99, as cheap is it is, is not free. If you've already used the Xbox Game Pass, that's as low as it's going to get I'm afraid. If you're a new customer, however, you can select the free trial, getting access to Sea Of Thieves (along with Halo Wars, Gears of War 4 and a few other titles) for a fortnight. Just remember to cancel it before the two weeks are up or you'll pay for another month.
It's a pretty handy service, especially for a game like Sea Of Thieves, which still has quite a few question marks surrounding it. And while the roster of PC games is currently very small, we're going to see a lot more of them appear on Xbox Game Pass, including State of Decay 2 in May.