Get Fresh: Splatoon Comes To Minecraft
Boom! Splat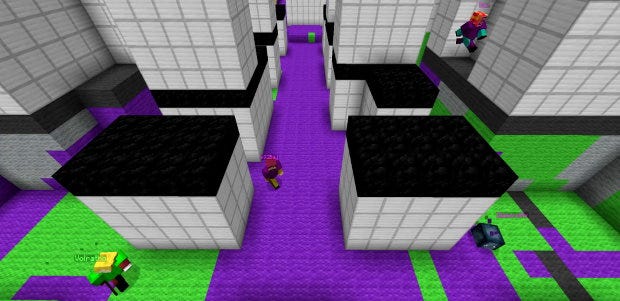 I've been mighty envious of my pals who've been playing Splatoon on their Wii U. Nintendo's squid-splatting multiplayer shooter, where victory is judged by how much ground your team covers with ink and killing enemies is just a way to help that along, looks fab. But as sure as Nintendo won't bring it to PC, folks will make their own versions of it on PC. Oh look, they already have!
Now out for Minecraft [official site] is a map recreating the splattathon. Oh of course it's not the same, but I'm always impressed by how people are inspired by things we can't have.
SethBling has whipped together Splatton's ink-splatting action on this here map, which you can run on any vanilla Minecraft 1.8 server. Splitting into teams, players have three minutes to cover the level in as much ink of their team's colour as they can, going over the enemy's ink and splatting enemies with a selection of splat weapons. It's not Splatoon, but it might be a lark. Have a look:
Of course a big part of Splatoon's appeal is its vibrant style and upbeat energy and charisma (and goofy squiddified video game memes), but look at you demanding that of a Minecraft world!
(I mean, sure, I could get a Wii U, but I already own too much 'stuff' and am trying real hard to pare my possessions down to an amount I could carry. A console and screen do not go well with this. REALLY I should just go bug some of my Wii U-owning pals.)