Promising: WoW Movie Snags Moon, Source Code Director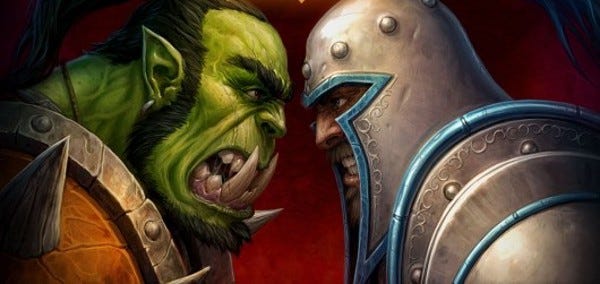 Once upon time, Legendary Pictures' long-stalled Warcraft movie had a director. Then it didn't. In the wake of Spider-Man and Evil Dead maestro Sam Raimi's mighty battle-leap into Oz, Blizzard's own heaving epic seemed destined to stall. Surprisingly, however, it's once again back on track. With David Bowie's son at the helm, naturally. But Duncan Jones is an excellent creator in his own right, having previously been responsible for the likes of Moon and Source Code, both of which did super interesting sci-fi things with unique settings and characters. Granted, he's not the first person I'd think of for a preposterously mega-budgeted fantasy swordsplosion, but who knows? I'd have never tagged Chris Nolan for Batman, either.
The Hollywood Reporter got the scoop, noting that Jones will be teaming up (in some capacity, anyway) with Blizzard's Chris Metzen, he of being named like a reindeer and also producing pretty much all of Warcraft's lore, I guess. In addition, Thomas Tull and Jon Jashni will produce for Legendary, and Charles Roven and Alex Gartner will be on board for Blizzard and Atlas. I don't know who any of those people are.
But when will we actually be able to watch the MMO-flavored fruits of their labors? Well, assuming all goes according to plan (hah), Warcraft will hit the big screen sometime in 2015. It's beginning production this fall, though, so that only leaves a scant few months for some 18-wheeler drama truck to come screeching out of nowhere and ruin everything again. Dare we hope things finally go off without a hitch? No. No we daren't.
For his part, however, Jones seems pretty excited. "So the gauntlet was thrown down ages ago," he tweeted. "Can you make a proper MOVIE of a video game? I've always said its possible. Got to DO it now!"
So that's a good sign. And honestly, I'm legitimately interested to see what sort of direction he decides to take this in. I mean, Warcraft's one of those universes that's grown so expansive and bloated that just about anything fits. While that often means groan-worthy humor and overwrought melodrama, it also leaves room for Jones to carve out his own slice, trim the fat, and craft a tale that tickles our brainbones in the same way Moon and Source Code did. Inevitably, it'll be much larger-scale (a $100 million budget tends to have that effect), but - while bigger certainly doesn't mean better - it also doesn't necessarily mean worse. I, for one, will be hopeful right up until the point Jones ends up on another project, gets addicted to Blizzard's own Titan MMO, or - at the rate this movie's going - dies of old age.