Pull The Lever: Democracy 3 Is Out Now
Democracy 3 Is Out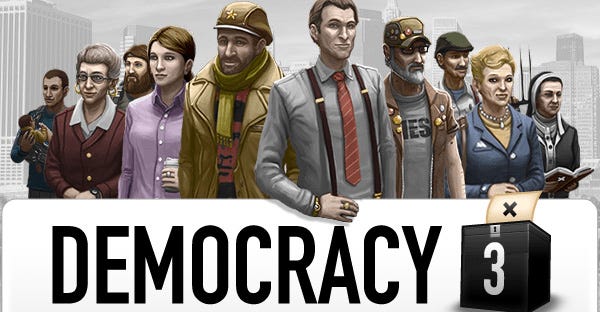 If you live in the UK, you already know democracy is a roguelike: a meatgrinder for the human soul where flawed characters venture into the dark in pursuit of great treasure, subsisting only on potions before eventually being paralysed and eaten by a newspaper. Luckily, I love roguelikes, and that's part of the reason why I've enjoyed the three hours or so I've spent with Positech's Democracy 3, which is out now.

The Democracy games cast you as the Prime Minister or President of a chosen country. Your job is to balance the budget with the needs of the people, and to garner enough support to be re-elected at the end of your term. In screenshots, its interface appears intimidating, but half an hour with it and Democracy 3's infographic-like web of linked data and interesting decisions becomes fascinating to poke and prod at.
In other words, if pollution is high and your country is suffering from ill health, then lay greater taxes upon polluting corporations and attempt to twist the graph in another direction. Now lover's of nature like you. Unfortunately, motorists and capitalists hate you, and they're more likely to vote come election day. Also, you've lost influence with your own cabinet, which means you're less effective on your next turn. Also, the higher taxes means that industry has shrunk, providing fewer jobs, and young graduates are leaving the country causing a brain drain within your nation, and the resultant increase in your country's average age is putting greater pressure on your social services, meaning you're going to up taxes even further to keep your coffers full. Shit.
Despite the inevitability of the end of your reign, I find the Democracy games optimistic. They suggest that with enough data and good decision-making, we can lead our way out of our problems. They also exist in this perfect world where voters make decisions based solely on facts, as there's no simulation of media or advertising and the way it shape opinion. It's just a set of pure, interesting decisions between you and the perfect society.
You can read Alec's more detailed impressions from earlier in the year. Democracy 3 is available to buy via Steam, and a DRM-free version is available to buy direct from the Positech website.
Here's the latest trailer: