Rainbow Six Siege Video Shows Plane Level, Carpentry
Planking.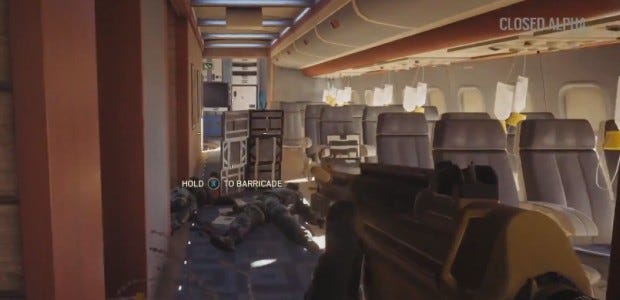 Rainbow Six Siege [official site] isn't the first time the Rainbow Six series has tried to take cues from Counter-Strike, but it's maybe the first time it has combined it with a compelling set of its own ideas. A new, ten-minute video boils those ideas down to: i) you can destroy walls and ii) your trousers are full of portable walls.
Seriously, it must be a woodworking shop down there. If you're not pulling sheets of wood over doorways to block the paths of your opponents, you're dropping metallic, waist-high cover on the ground to crouch behind. This on top of a sledgehammer, barbed wire, EMP grenades and a "Bonfire Launcher". Your thighs must be chafing.
In this particular video, you're doing these things in a previously unseen level inventively named Plane. It's reminiscent of cs_747 in as much as it also takes place aboard a plane, but it's different in that it doesn't seem to be about a single, infuriating chokepoint divided by immovable curtains.
I am excited about Siege, because I like destroying things, but marginally less so than Due Process. The video is taken from the game's currently closed alpha, so may not hang around online for long. Watch it below.
Thanks, Eurogamer.