Rogue Legacy Release Date Is... Next Week! Quick!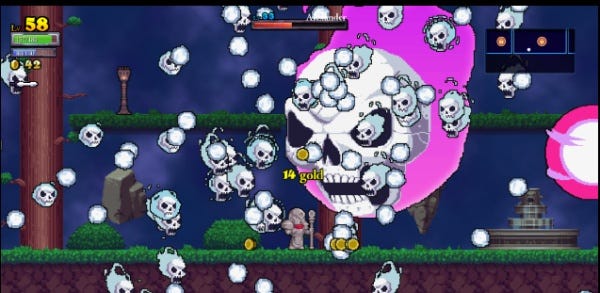 My goodness, I've had a good time playing Rogue Legacy. In one of the most enthusiastic previews I've written, I declared that were it not to be a hit there'd be no justice in the universe. I meant it. And now it has a release date so you can play too - and it's next week. 27th June, on Steam. There's a trailer to prove it.
Okay, so this gets a bit weird for me here. Sometimes something we've written in an article gets quoted in a game's publicity. It seems to happen to me incredibly infrequently, most likely because I'm too curmudgeonly or something. I do remember one time when I was going for a wee in a motorway service station, looked at the wall directly in front of my face, and saw a sentence I'd written in a poster advertisement for Broken Sword 3. That was odd. This is odder:
I mean, that's flattering. But when Destructoid's Patrick Hancock wrote, "I don't just roguelike it, I rogueLOVE it," I cannot understand how that isn't the lead quote. I've chopped my own arms off in shame that I didn't think of that line.
Anyway, you can still pre-order the game for $10, which right away gets you the "demo", which is in fact a massive amount of the game. Seriously, I love this.