Rome II Will Conquer 35 GB Of Your Hard Drive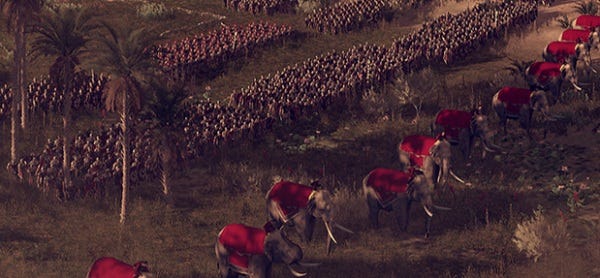 Creative Assembly need to tell you something. The Horsham-based developer has been trying to let the world know how large Total War: Rome II is for ages now, showing off its enormous battlefields, the thousands of men rushing around the place, the naval units that lurk offshore. The elephants. Having played the game myself at Rezzed, I can confirm that the wars do appear to be total, stretching from one exquisitely rendered horizon to the other. To communicate and celebrate the game's grand proportions, another of those massive screenshots has appeared, showing a ruckus down by the Nile. Oh, and the hefty system specs have been confirmed. 35 GB of HD space is probably around a megabyte per elephant.
Here are the full specs:
Minimum:
OS: XP/ Vista / Windows 7 / Windows 8
Processor:2 GHz Intel Dual Core processor / 2.6 GHz Intel Single Core processor
Memory: 2GB RAM
Graphics:512 MB DirectX 9.0c compatible card (shader model 3, vertex texture fetch support).
DirectX®:9.0c
Hard Drive: 35 GB HD space
Screen Resolution: 1024x768

Recommended:
OS: Windows 7 / Windows 8
Processor:2nd Generation Intel Core i5 processor (or greater)
Memory: 4GB RAM
Graphics:1024 MB DirectX 11 compatible graphics card.
DirectX®:11
Hard Drive:35 GB HD space
Screen Resolution: 1920x1080
System specs always remind me of being a teenager and scouring game boxes, looking for anything that would run on my ageing rig.