Sea of Thieves will set sail on March 20
Pirate pals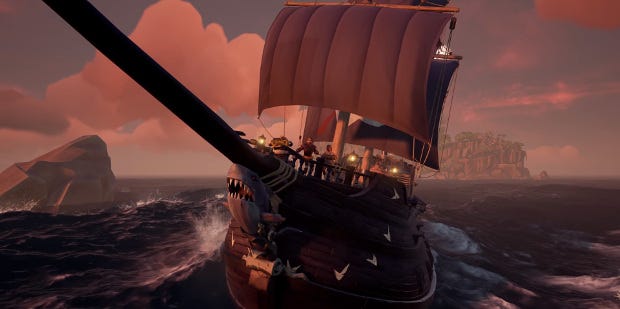 Co-op pirate-em-up Sea of Thieves has a new trailer along with a release date that's not very far off at all. You'll be able to fill up on grog and buried treasure on March 20, 2018. In the meantime, cram the trailer inside your eyes.
I took an immediate dislike to Sea of Thieves when Rare first introduced it in a video that contained a group of 'fans' playing together while howling and shrieking, but absent shouty strangers it actually looks like a great deal of fun. It also looks like you'll absolutely need some pals to play with, however, unless you want to brave the horrors of running a ship with a bunch of randoms.
For a deeper dive, you might also want to take a look at the E3 walkthrough, which shows off shark attacks, treasure hunting on land and sea, and some exciting nautical combat full of cutlasses and cannons.