Shadow Of The Tomb Raider's first co-op DLC tomb, The Forge, is out now
A tomb with a view for two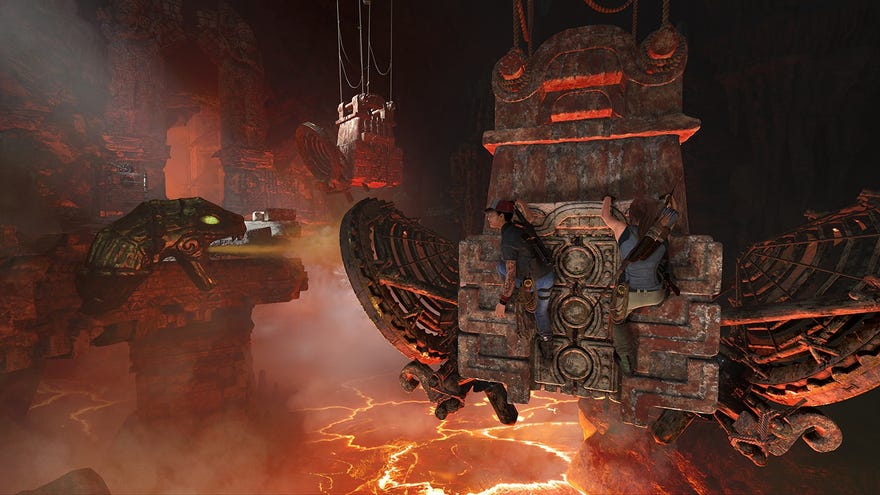 If there's one thing better than looting the artefacts of ancient, forgotten civilisations for personal gain, it's doing it with a friend. Today, the first of seven planned DLC tombs for Shadow Of The Tomb Raider was released. The Forge is a lava-filled, puzzle-heavy delve, and designed for play either solo or in the newly introduced online co-op mode. Lara can now tag along with a pal and solve problems in fun tag-team ways, further building on the back-to-basics tomb raiding approach of the game. Below, Eidos Montreal show off some of the quirks of multiplayer.
Despite the first two games in this particular Tomb Raider reboot trilogy building up an Uncharted-esque 'lady rambo' Lara, this DLC continues to build on Shadow Of The Tomb Raider's approach. Less guns and burying mining picks into skulls (maybe she misunderstood 'temple dig'), more platforming and puzzling. From the sounds of the video below, that's going to be the focus for the entire run of DLC. Seven tombs, all designed for play either solo or in co-op. These new tombs are tied into the world through side-quests, and pay out in weapons and cosmetic fluff.
Still, I can't help but think that drip-feeding a major new mode into the game over the course of the next year is an unusual decision. I've yet to pick up Shadow (not the hedgehog) for myself, and now I'm considering holding off until the whole thing is available in one go. Ideally so me and my other half can play co-op the whole way through, instead of just one map every month or two. Season passes are strange things - initially a poor investment, but they can often add up to a very worthwhile package with a little patience, and a big seasonal sale.
Shadow Of The Tomb Raider is available on Steam and Humble for £45/€60/$60, with the season pass priced at £23/€30/$30. The Forge is available by itself for £3.75/€4.99/$4.99.