Shogun 2 Ikko-Ikki Faction DLC Out Now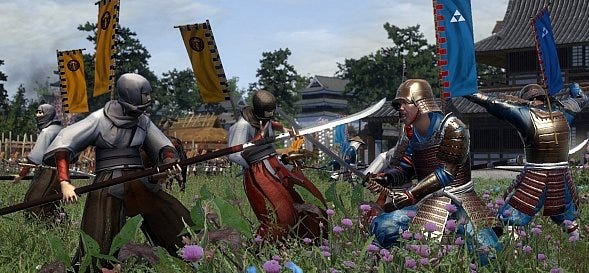 Something called the Ikko Ikki Clan Pack has just been released for beautiful grand strategy game Total War: Shogun 2, adding a brand-new faction of warrior monks to the game, as well as new skill trees, a new Ikko-Ikki monk agent, eight new units, a new hero and more for the the price of $5. You can buy it here. I'm actually prepared to call it a fairly generous package, compared with the emaciated Babylon and Polynesia packs for Civilization V. Full feature list after the jump.

Who's still playing Shogun 2 then? I said I'd return after they fixed most of the bugs. Has that happened, then?
The Ikko Ikki "warrior monk" Clan:

* A new clan for use in single or multiplayer Campaign modes and Custom and Multiplayer Battles
* 8 new unit-variants specific to the Ikko Ikki clan
* New skill trees
* New Ikko Ikki Monk Agent with his own specific skill tree

The Ikko Ikki Clan Pack also includes:

* The Warrior Nun unit – can be trained by any clan except the Ikko Ikki
* New Naginata Warrior Monk hero
* New Historical Battle: Nagashima (Ikko Ikki VS Oda)
* Ikko Ikki armour set for Avatar - includes hood, robes and barefoot leg-pieces.
* New Retainers for use in the Avatar Conquest mode: