SPACE HALT! Space Hulk: Deathwing delayed five days
Polish your crotchskulls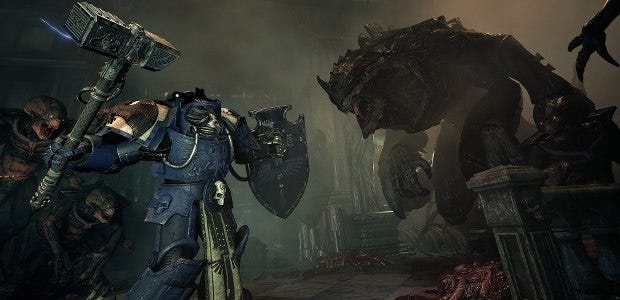 Space Hulk: Deathwing [official site], the Warhammer 40k squad-based FPS about Space Marines shooting oh so many nasty aliens, has been delayed a few days. It was expected this Friday, the 9th, but publishers Focus Home have pushed it back until Wednesday the 14th for a little more polish. Untrue rumours started by me suggest that our own Alec Meer has been in the recording booth for a special mode replacing every single sound effect with him shouting "SPACE HULK" with various intonations.
Deathwing, to refresh your memory, is an FPS sending a Space Marine Terminators squad into the eponymous deadly conglomerations of chaos-warped ships. Missions will send you to recover valuable ancient artefacts and, y'know, shoot a whole load of aliens. In the singleplayer mode you play a librarian (read: wizard) with AI squad buddies and so many oversized weapons. In online co-op, folks get to play all sorts of different classes.
Here, have a peek in this recent trailer with 14 minutes of singleplayer action:
Focus Home say that they delay is "in order to offer the best possible experience at launch". They explain that a few problems had become apparent in a closed beta test that wrapped up last week:
"The team is currently working relentlessly to address the technical points raised. Most issues have already been addressed, including drastic improvement in loading times, optimisation of general performance, improvement of interface and menu elements, sound-design changes including character voices, and fix of numerous bugs and nearly all occurrences of crashes. Work is of course ongoing to fix the remainder of these issues."
Deathwing is being made by Streum On Studio, the folks behind the pleasingly overambitious cyberpunk FPS E.Y.E: Divine Cybermancy. It'll cost £30 on Steam.