Spacebiff: X-Rebirth Combat Trailer
Less than a month till X Rebirth!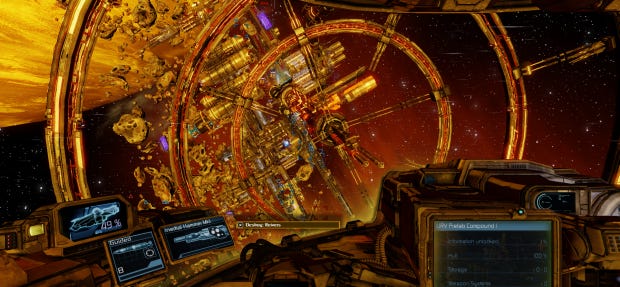 The thing that surprised me the most during my playthrough of a tiny section of X Rebirth was the combat. It was, admittedly, a combat focused demonstration with a nippy ship, but when I wasn't breaking the game by dodging the story and hunting around the station for fun things to do, being dragged into the space battles wasn't a drag at all. It was fun. X's usually treacly controls were no more, and some of the combat tweaks means you have to think your way around some of the bigger battles. It was encouragingly spam free. As is the trailer below, which shows off some of the mighty spacebiff's in Egosoft's upcoming game.

What I really need to know now is if it can pull off this sort of stuff away from the main story and planned demonstrations. It looks spectacular, but I want it to be this spectacular when I'm thirty hours in, wending my own path through the galaxy, and ignoring the shonky writing and terrible voice acting. If the open-ended structure is set up to give you angry, city-sized fights because of reasons, then I might just cry. Take a look.
Oh my. November 15th is now marked on my Google Calendar.