Spintires: MudRunner churns up American Wilds in October
Mud! Mud! Glorious American mud!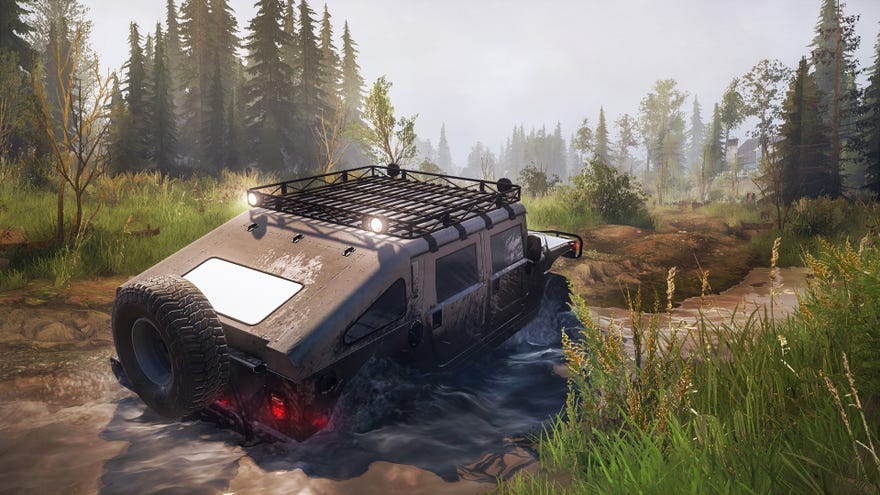 Imagine taking a holiday from your job as a trucker ploughing through the mud of Russia, packing your bags and flying over to the Americky, booking a car for a road trip through the sights and sounds of the US of A, only to get stuck in the mud there too. This nightmare will become reality in Spintires: MudRunner on October 23rd, the newly-announced release date for its 'American Wilds' expansion. It will get us stuck on new American maps in new American vehicles, and I am still delighted that this world has a successful game with the premise 'You car's stuck in physics-simulated mud and it's real hard to free yourself but quite satisfying.' Here, see some American mud in a new trailer.
American Wilds will add two new sandbox maps, "inspired by the rough lands of Montana, North Dakota, and Minnesota". Which is Fargo country, I suppose, so keep an eye open for a red ice-scraper stuck in the mud.
The expansion will also add seven new vehicles, including a Hummer, Daimler's Western Star and Freightliner trucks, and... some other wheely things from Ford and Chevrolet. Look, I'm a pedestrian, what do I know? I just known I like that family vehicle with a roof rack full of luggage for that 'summer vacation gone horribly wrong' feeling.
While it had previously been suggested this would be a standalone game, nah, American Wilds will be an expansion. It will, however, also come bundled with the base game in the Spintires: MudRunner – American Wilds Edition (and this will bring the game to Nintendo Switch too, in November). Publishers Focus Home Interactive haven't announced a price for American Wilds; I've asked 'em but not heard back yet.
MudRunner is a revamped and expanded version of Spintires, released after Focus Home bumped out the original's publisher. The game had often been mired in disputes between creator Pavel Zagrebelny and the publisher, holding up development, so it's good to have it out of that situation. Development is now in the hands of Saber Interactive, with Zagrebelny still involved.