Spintires: MudRunner rides out on Halloween
BOO!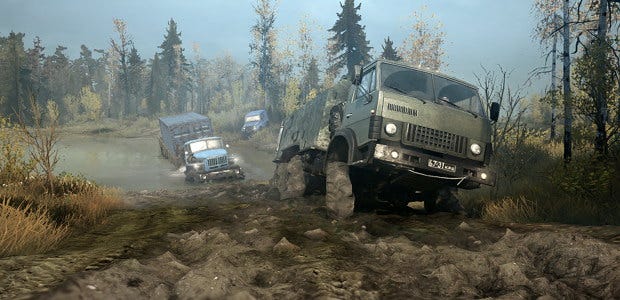 To launch a game on Halloween is to declare that it will make you fill your boots with muck, that you will want to flee but find yourself stuck to the spot, and that you will cry and roar. Spintires: MudRunner [official site] isn't your usual spookfest but I suppose it does hit those points, making the newly-announced Halloween release date fitting. MudRunner is an expanded re-release of 2014's Spintires, a wonderful game about driving huge vehicles through dynamic simulated mud. Why is MudRunner a separate release? Because the game has changed hands, switching publishers from Oovee to Focus Home and signing up development studio Saber Interactive to work with creator Pavel Zagrebelny.
MudRunner will pack a new sandbox map, a general fancying-up of graphics, new vehicles, a new Challenge mode, and other fancy bits.
It is a shame that this is a separate release, but people who bought the original SpinTires will at least get a 50% discount on MudRunner.
Development on the original game stalled years ago as relations between developer Pavel Zagrebelny and publisher Oovee broke down messily and publicly. The protracted back-and-forth included accusations that Oovee cut Zagrebelny off, reconciliations, more breakdowns in communication, the game being temporarily pulled from sale... I'm glad that a game as wonderful as Spintires has seemingly found a more stable setup.
And it really is a good game. A driving game where moving at walking pace can be a real accomplishment, where every bump and dip is a puzzle. Check out Adam's Spintires review for a deeper look.
Spintires: MudRunner will cost £24.99/€29.99/$29.99 when it hits Steam on October 31st.